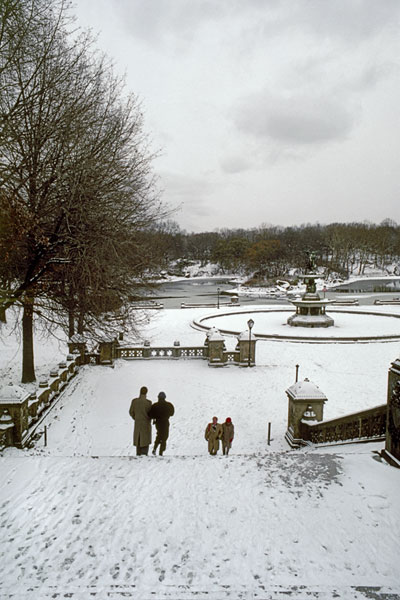 Bethesda Fountain, Central Park, 1982 (35mm Kodachrome) — © Brian Rose
A couple of days ago I posted several photographs made while walking through Central Park. Early in my career I worked a lot in the park with both a view camera and a 35mm camera. I don't remember the exact circumstances of the image above–often I was shooting for the Central Park Conservancy  when using the small camera. I had a 4×5 internegative made from the slide, and made a couple of prints, but never did much with them.
It's a romantic image of New York, two couples passing each other on the stairs, almost black and white, quiet.
***
Yesterday, I met some friends at the Museum of Modern Art, and afterwards returned to my studio by subway. On the 57th Street platform I encountered a couple of musicians playing bluegrass, old time mountain music. One played a banjo, the other a mandolin. They were really wonderful, and several of us dropped bills in the open banjo case.
A man stepped forward carrying an oddly shaped black instrument case and gave some money. I immediately thought to myself, that is somebody.We ended up sitting opposite each other on the train, and I saw a sticker on his case — Kronos Quartet. It was their cellist, Jeffrey Zeigler, which I confirmed later when I got back to my studio. They had just played the night before at Zankel Hall in Carnegie Hall.
I once saw the Kronos Quartet play at Lincoln Center. They were performing the string quartets of Alfred Schnittke, the late Russian composer. I did not have tickets and went to the hall expecting to sit far from the stage. Instead, due to a last minute cancellation, I ended up in the front row just a few feet from the performers. It was both exhilarating and nerve wracking to sit so close, hearing every breath, every groan, seeing beads of sweat form on the musicians' faces.