Park Place — © Brian Rose
Friday evening I walked down to the World Trade Center with an invitation to the 48th floor of 7 WTC, the first completed structure in the rebuilding post 9/11. Silverstein Properties, the owner, has made the 48th floor available as an artists' studio, though soon the occupants will have to make way for a paying tenant.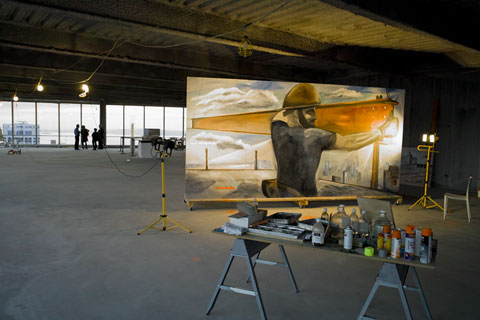 7 WTC, 48th Floor, painting by Marcus Robinson — © Brian Rose
The entire floor was unpartitioned and open with raw concrete floor, exposed fire proofed steel beams, and wrap around floor to ceiling windows with stunning views. At least four artists were on display including Marcus Robinson who is a painter and videographer. His time lapse images of the rebuilding of the World Trade Center were shown on a large video screen.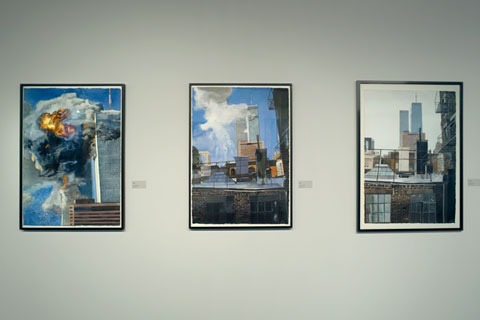 Paintings by Todd Stone — © Brian Rose
Another artist, Todd Stone, had a gallery-like exhibition of his paintings on one side of the floor documenting 9/11 as seen from his Tribeca studio. I usually don't like to see images of the horror of 9/11 itself, but these were done as a spontaneous reaction to what was happening a short distance away, the paint somehow distancing the event while at the same time heightening the attention to it in a way that photographs do not.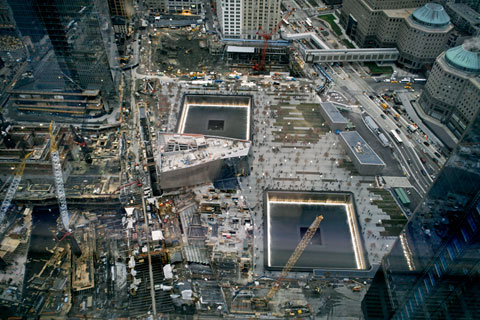 View of 9/11 memorial — © Brian Rose
I took a few photographs through the windows, one looking down on the memorial–glass reflections unavoidable.  Stone has been doing paintings of the rebuilding, and he was working on one of the 1 WTC while I was there. I spoke with him for several minutes, and I traded one of my WTC books for one of his exhibition catalogues.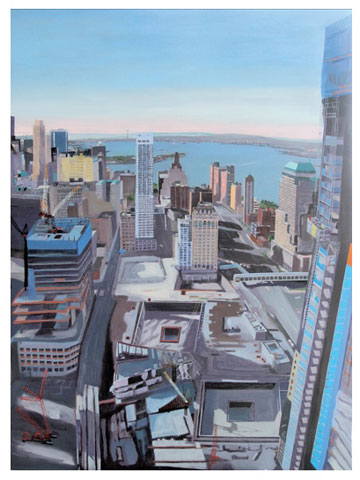 Painting by Todd Stone
Snow scene from the 48th floor with Diebenkorn-ish colors.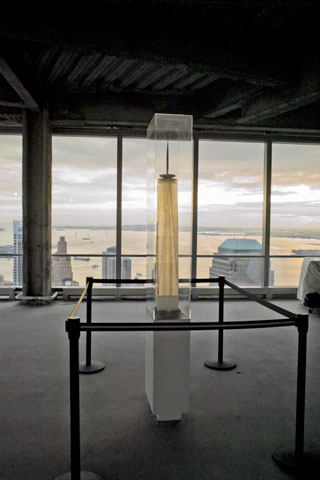 1 WTC model — © Brian Rose
A model of 1 WTC stood on the south end of the 48th floor adjacent to the real thing going up outside the window. The late afternoon sun just caught the translucent plastic of the model giving it a golden glow. The actual tower will never appear so crystalline I am afraid, despite its faceted exterior. But we shall see…