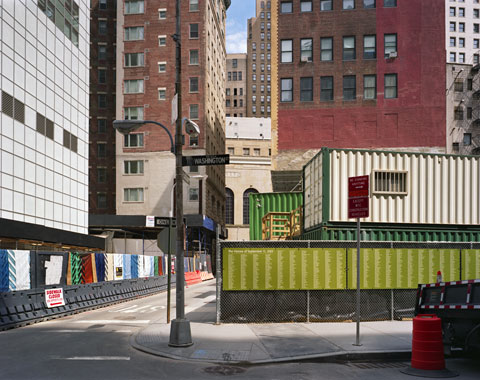 Greenwich Street near the World Trade Center  (4×5 negative) — © Brian Rose
I've been catching up on scanning recent 4×5 negatives from the Bowery and the World Trade Center, my two current projects. The image above was made a few months ago and was taken a couple of blocks from ground zero. A fence displays the list of names of those killed on 9/11–The Heroes of September 11, 2001 it reads–and the steel containers behind hold contractor offices or equipment storage related to the nearby construction site. The names are now found at the completed 9/11 memorial, etched in stone.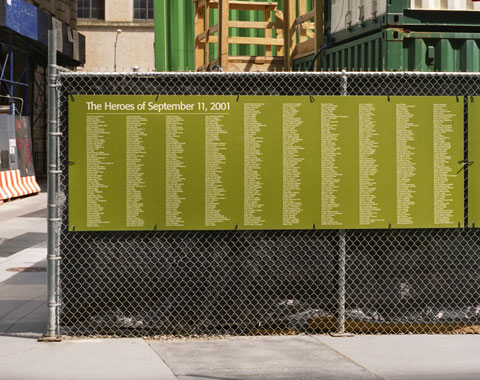 Closeup from image above — © Brian Rose
It is an image that I find particularly satisfying–the multiplicity of layers, materials, colors–a telling detail, the 9/11 list, that gives larger context and raison d'etre. The emptiness of the streets seems almost unreal in such a densely built place. It's not a photograph I'd likely take with a small camera–or at least thinking through the medium of a small camera. It is an image made with the assumption that details will read even when printed large, or especially when printed large. The computer screen gives only an impression of what would be there in a higher resolution print.
Please click through to larger images.