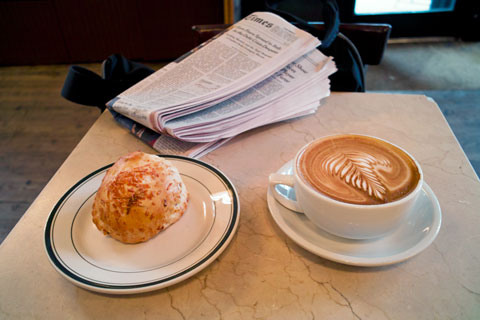 At Think Coffee on the Bowery — © Brian Rose
Thoughts over breakfast this morning–cognitive dissonance department.
Mario Batali, celebrated chef and restaurateur at a Time person of the year event:
"The way the bankers have toppled the way that money is distributed, and taken most of it into their own hands," Mr. Batali said, "is as good as Stalin or Hitler, the evil guys" whom Time named Man of the Year long ago, Stalin in 1942, Hitler in 1938.
The internet lit up with indignation from Wall Street:  "Cancel all reservations at Batali's eateries, including Babbo and Del Posto." Yet another wrote, "Done with Batali restaurants."
Article here.
—
Meanwhile at Occupy Wall Street David Crosby and Graham Nash performed a five song set at Zuccotti Park. From a mostly snarky NYT article:
When the concert ended, to protracted cheers and vigorous finger-waggling, an oft-used signal of appreciation inside the park, Ms. Mandaglio spoke of the thrill of seeing a favorite group from a bygone era. She was asked what song of theirs she liked best. "The one they were playing before," she said, taking a long drag on a cigarette as she dangled the sunflower between her fingers.
But she was not the best person to ask, Ms. Mandaglio added. She was really more of a Bob Dylan fan.
—
And at Penn State University in response to the firing of famed football coach Joe Paterno and the forced resignation of the university president, students rioted overnight in downtown State College, Pennsylvania. Never mind that the ousters were the result of a grave mishandling of child sexual abuse.
Some blew vuvuzelas, others air horns. One young man sounded reveille on a trumpet. Four girls in heels danced on the roof of a parked sport utility vehicle and dented it when they fell after a group of men shook the vehicle. A few, like Justin Muir, 20, a junior studying hotel and restaurant management, threw rolls of toilet paper into the trees.
Article here.
—