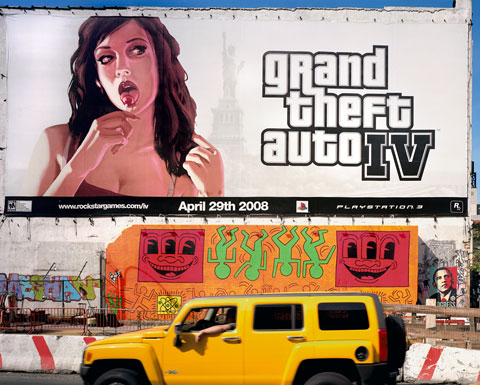 Houston and Bowery with Keith Haring  re-creation, 2008 — © Brian Rose
A year ago I discovered the origins of the Houston/Bowery wall, a slab of concrete that hosts a regularly changing display of graffiti and street art in various media. The wall always seemed odd to me because it was free standing and stood a couple of feet away from the party wall of the building behind it. Where did it come from?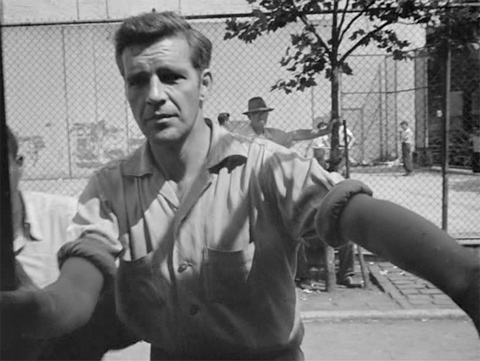 Ray Salyer in On the Bowery, handball court behind
The answer came on a visit to Film Forum when I saw the great quasi-documentary film On the Bowery made in 1957 by Lionel Rogosin. In one of the scenes, Ray Salyer, the main character waits with a group of Bowery men looking to be picked up for day labor. Behind him a game of handball is being played against a detached wall, unmistakably the same wall that survives today, except that it is now encased in a more expansive and user-friendly surface. But underneath, the handball court wall remains.

Opening scene from Martin Scorcese's Who's That Knocking at My Door, 1967
Last week while putting together a slide show of Lower East Side images for a class I am teaching, I came across a video of the opening scene of Martin Scorcese's first feature film Who's That Knocking at My Door made in 1967. It's a street brawl–a choreographed violent  dance–played out on the corner of Houston and Bowery in front of, you guessed it, the former handball wall, now graffiti wall.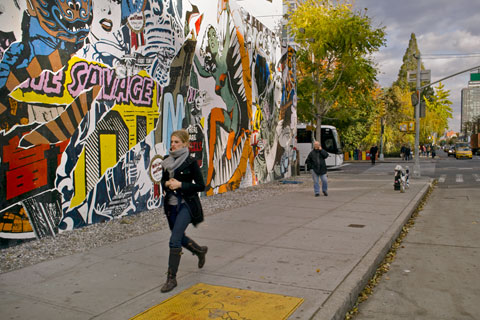 Houston and Bowery, mural by Faile, 2011 — © Brian Rose
As you  can see in the film and in the photograph above, Houston Street was widened after 1957 and the distance from the street to the wall was reduced. So, it turns out this lowly urban artifact has quite a distinguished pedigree, not only as the canvas for the current series of murals, but as an architectural extra in two classics of American cinema.