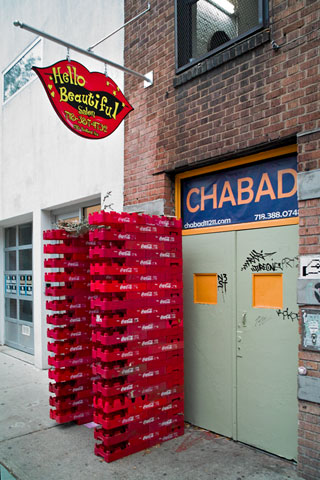 Bedford Avenue, Williamsburg, Brooklyn — © Brian Rose
If you're building your own sukkah, here are the basic materials you will need:
The Walls: The walls of a sukkah can be made of any material, provided that they are sturdy enough that they do not move in a normal wind. You can use wood or fiberglass panels, waterproof fabrics attached to a metal frame, etc. You can also use pre-existing walls (i.e, the exterior walls of your home, patio or garage) as one or more of the sukkah walls. An existing structure that is roofless or has a removable roof can also be made into a sukkah by covering it with proper sechach.
The Roof Covering: The sukkah needs to be covered with sechach—raw, unfinished vegetable matter. Common sukkah roof-coverings are: bamboo poles, evergreen branches, reeds, corn stalks, narrow strips (1×1 or 1×2) of unfinished lumber, or special sechach mats.