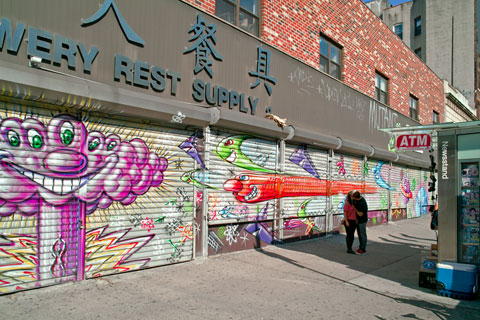 The Bowery and Delancey Street — © Brian Rose (graffiti by Kenny Scharf)
The process of making photographs varies with different photographers. There are some who work within conceptual frameworks that require a great deal of calculation ahead of time. Others, like me, tend to think in projects that take in long time lines, or that slowly, image by image, explore the relationship between self and the outside world. However, in any case, there is usually an element of discovery–a path found–a thread identified and then pulled–a momentary recognition of something essential. Often, these discoveries are fleeting, provisional, trivial. Not exactly mind bending paradigm shifting stuff.
So, I pick up the paper this morning, as usual, and flip through the arts section, and land upon a review of a photography show–a rarity these days in the New York Times. It's about the latest New Photography exhibit at MoMA. I was already aware of it mostly because I knew that Doug Rickard's Google Streetview images are in the show. Rickard's work is fascinating in that the images made are essentially available to all. He simply reframes the 360 degree  anonymous pans of the world glimpsed from Google's ceaselessly cruising eye.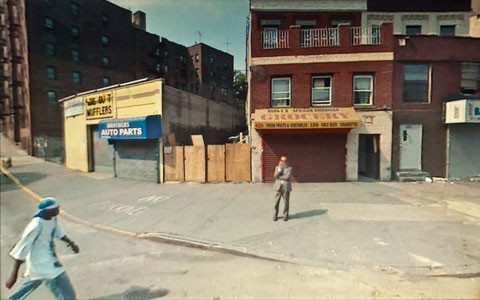 New York City, photo by Doug Rickard (via Google Streetview)
On the one hand, Rickard uses the images as social commentary, focusing primarily on the most neglected and down and out areas of the United States. There's nothing new about photographing such areas. But on the other hand there is something different about seeing these places through a robotic lens–literally drive-by photography–seen voyeuristically as if through a roving security camera. Rickard has us gaze at the underbelly of society, at poor people, scary looking people, caught unaware by the camera, captured in the barrel distorted, light flared reality of Google–and we all become Big Brother in the process. Guiltily, I cannot stop looking at these disturbing images.
This is work that deserves a good deal of critical thought, and even soul searching. But as I begin to read Ken Johnson's review of New Photography 2011 I am slammed dead in my tracks by this:
In the 1980s photography mutated into a monster that threatened to swallow fine art altogether. In the hands of artists like Cindy Sherman, Jeff Wall, Gregory Crewdson, Andreas Gursky and legions of copycats, photography parsed the day's most urgent questions about representation, propaganda, truth and reality. But in the ensuing decades, the answers became increasingly routine, and today the beast that art photography was finds itself tired and toothless.
If you are searching for signs of rejuvenation in "New Photography 2011," an exhibition of six artists at the Museum of Modern Art, you will look in vain. 
With that dispiriting introduction, Johnson then goes on to dutifully praise the work in the show including Doug Rickard's "species of meta photography." But why bother make the effort if none of the work offers signs of rejuvenation? Why saddle these photographers with this unfair and miserable burden? What a drag for Johnson to have to write this article. What a drag for us to have to read it. And now, excuse me while I resume my pointless search for relevance outside–or inside–I don't know which–the tired and toothless art photography monster.