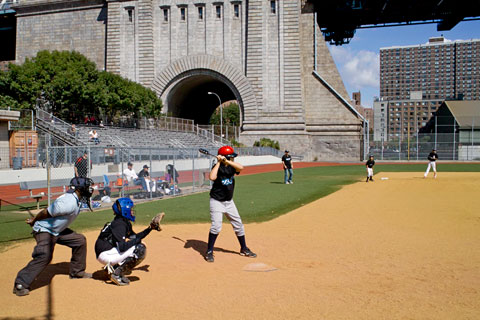 Brendan, my son, at bat under the Manhattan Bridge on the Lower East Side
© Brian Rose
It's time to step up to the plate and take charge. Several years have gone by since I introduced my book proposal, Time and Space on the Lower East Side. At this point it is clear that nothing is going to happen with this book unless I take the initiative. In recent months I have been talking with Bill Diodato, a photographer and book publisher. He has produced his own extraordinary book, Care of Ward 81 (slide video here), and is now taking on new projects as Golden Section Publishing. My book will be the first.
We do not have a lot of money to work with, so I am hoping to raise a part of it via kickstarter, the internet fundraising platform–which, by the way, has its offices on the Lower East Side. I will be launching the campaign this weekend and it will run 45 days. My goal is $8,500, or more.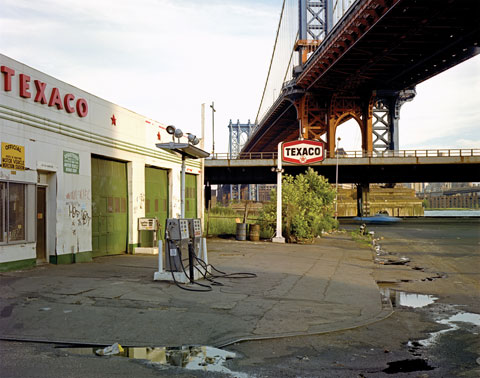 Under the Manhattan Bridge, 1980 (4×5 film) – © Brian Rose/Ed Fausty
Once the campaign is launched I will be sending out personal email requests for support, and I will provide a link here to my kickstarter project page. There will be many different levels of support available to fit all budgets.
Time and Space on the Lower East Side is a portrait of one of America's most important neighborhoods spanning three tumultuous decades. The project was initiated in the early days of color art photography, and includes view camera scenes of the Lower East Side in 1980, when the neighborhood was burning and crumbling, when artists and musicians celebrated the edgy, if not dangerous, nature of the place. I have since rephotographed the Lower East Side, post-911, a much gentrified, but still fascinating part of New York.
It has never been easy getting photography books published. It took years for me to get the Lost Border published, which by the way, has sold over 2,500 copies. That may not sound like much, but it is in fact a very respectable showing for a serious fine art photo book. Not that it mattered when I sought a publisher for Time and Space.
I have worked too hard and too long to be defeated by a publishing industry increasingly incapable of discerning important work and marketing it. With your support, I will get this book out, online and in stores, by the beginning of 2012.