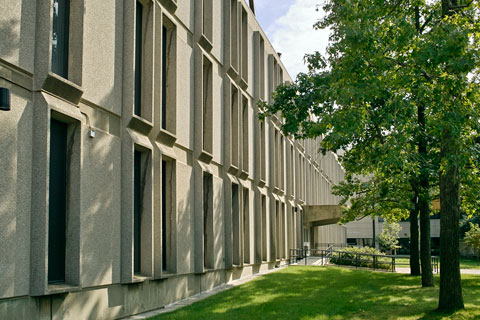 Rutgers University, Newark campus — © Brian Rose
Friday I was on assignment in Newark photographing a couple of renovated classrooms at Rutgers University. The campus, adjacent to downtown is a hodgepodge of different architectural styles built at different times, but the central campus was constructed in the late 60s/early 70s in what is commonly referred to as brutalism. I've written about brutalism before with regards to a Robert Geddes building at the Institute for Advanced Study in Princeton, a sublime example of a much maligned architectural movement.
It can be a hard to love architecture in that it typically utilizes raw concrete poured into wooden forms–beton brut is the original French term–and many people find it cold, even forbidding. But some of the great architects of the 20th century worked in this idiom including Corbusier and Louis Kahn.
The Rutgers campus in Newark isn't likely to be compared to Kahn's Salk Institute, but it is, nevertheless, a fine example of brutalism used to create a sensitively scaled urban environment. Alas, I cannot find a single reference to the architecture of the campus on the internet other than in passing references to urban renewal and the racial tensions present in Newark at the time.
I will ask around and hopefully report back with the  name of the architect or firm that did the project. If anyone knows, by all means speak up. The photo above shows only one of the buildings (Boyden Hall), taken as I was leaving the job, which fronts on University Avenue.
Update:
I've been able to find out at least partial information about the Rutgers Newark campus. I read online that Grad and Grad (later the Grad Partnership) had proposed high rises for the urban renewal area that became the campus. That plan was apparently scuttled, but Grad continued to play a role in the project designing various buildings including the Robeson Campus Center.
According to David Nelson, an architect who emailed me earlier today, "Boyden and Conklin Halls, and the Dana Library, were designed by Kelly & Gruzen (now Gruzen Samton), with offices in New York and Maplewood, NJ. The drawings are dated 1964." Gruzen has been a leading architectural firm in NYC for many years.
Up above I praised a building by Robert Geddes on the campus of the Institute for Advanced Study in Princeton, and sure enough, Hill Hall, one of the most interesting of the Rutgers structures is by Geddes Brecher Qualls Cunningham–the same Geddes. I still don't know who was responsible for the master plan, but I am pleased to discover that the individual buildings were designed by some of the leading architects of the 1960s. It is a time period in architectural history that is often undervalued, and accordingly, the Rutgers Newark campus deserves more appreciation. If I get back there again, I'll take some more photographs.