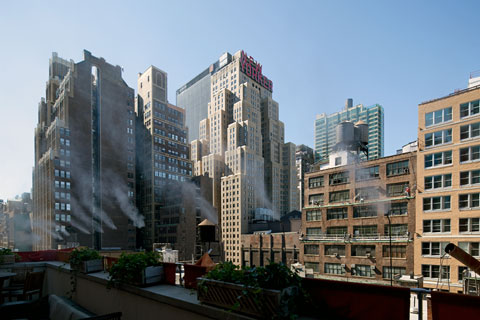 West 36th Street — © Brian Rose
Stan Banos at Reciprocity Failure asks "Are you a street photographer?" and points to my recent photograph of balloons as evidence that it is still possible to find moments of wonder " in the street." People suggest that street photography is making a comeback.
Maybe I'm out of touch with the current chatter, but it's not something I've thought about lately. I guess there was a time as a student when I thought of myself as a street photographer. And it's true that I still make a lot of photographs while perambulating about the city. But it seems to me that street photography refers more to a style of picture taking than to the simple act of making photographs in public places.
Sometimes I work with a 4×5 view camera, especially engaged in long term projects, and sometimes a pocket size digital camera. The photograph above was made with a Canon 5D with a tilt/shift lens employed while doing an architectural shoot. I find images where I am–the street or otherwise.