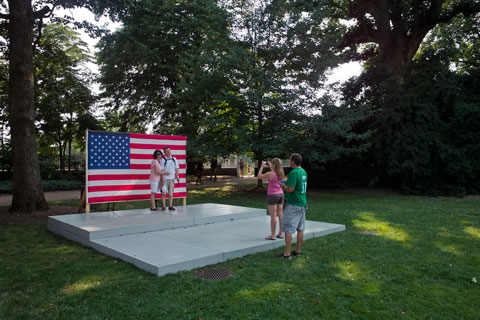 Mt. Vernon, Virginia — © Brian Rose
I drove north from Richmond to Washington, D.C. with my family. It's the 4th of July weekend, so no escaping the crowds in D.C. We rented bikes and cycled down the Potomac to Mt. Vernon, George Washington's plantation. It's about 18 miles, the terrain not too difficult, but the temperature was well above 90, and about 3/4 of the way there I started to lose it. I've played enough summer basketball in the past to recognize the signs of heat exhaustion, and that's what was happening. I walked up the final hill to Mt. Vernon–that's why it's called "mount" said my son Brendan–and got the necessary liquids into me.
We decided to take a tour of the house, but had to wait a couple of hours before a timed ticket was available. So, we found a shady spot under an immense elm tree at a distance from the other tourists and lounged on the grass. I got stung on the foot by a bee–another little setback–but it wasn't too bad. After resting a while I roamed around the grounds and took a series of pictures.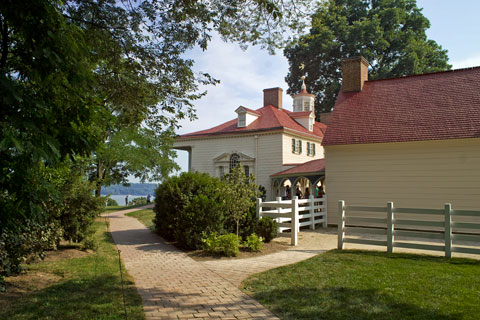 Mt. Vernon — © Brian Rose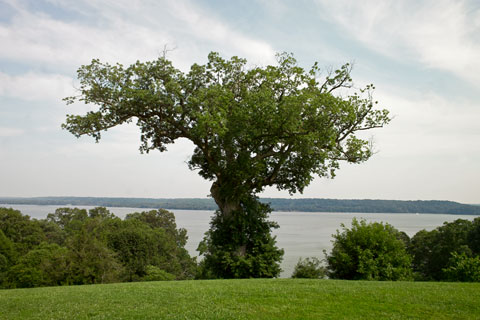 Mt. Vernon — © Brian Rose
At 5pm, our slot, and the last of the day, I asked a ticker taker how many people went through Mt. Vernon that day, and he said about 8,000. The tour is brief and they keep you moving, but the interiors are beautiful–no photos allowed–and worth seeing. Immediately afterward we mounted our bikes and headed off for the 18 miles back to D.C. My legs were tired, but I experienced none of the earlier day's difficulty. As we approached Alexandria, to the south of D.C., menacing clouds and bolts of lightening moved in. We almost made it to the city, and shelter, but were caught in a crashing deluge and swirling winds. We managed to take partial shelter under an entrance to a parking garage in an apartment complex, but we were soaked through, and pretty much through all together.
More storms were headed our way. So we ditched our bikes at the Alexandria location of our bike rental company, and took the subway back into the city–wet, cold, exhausted, but pretty happy.