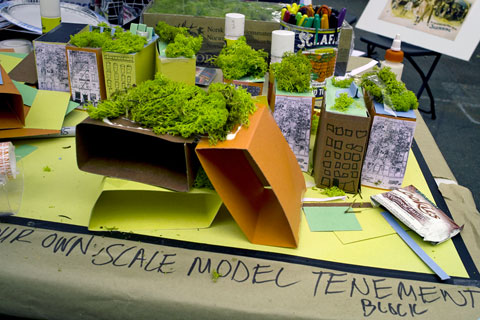 Sarah D. Roosevelt Park — © Brian Rose
We visited the New Museum block party in Sarah Roosevelt park yesterday–despite the continuing heat. While I talked to David Mulkins, the director of the Bowery Alliance of Neighbors, an organization trying to save the historical character of the Bowery, Brendan, my son, busied himself creating a model tenement out of colored paper. His design is probably not what the preservationists had in mind–but I like it a lot.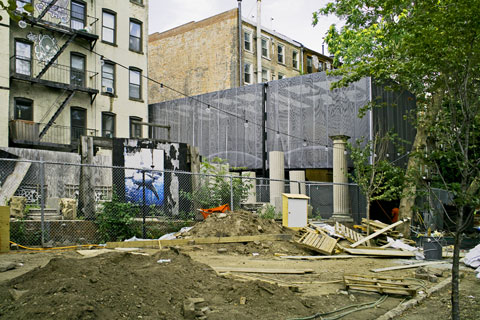 BMW Guggenheim Lab — © Brian Rose
A few blocks north I snapped a few pictures of another example of cutting edge Lower East Side architecture, the BMW Guggenheim Lab, a temporary structure to serve as a sort of interactive urban think tank. Exactly how it will function–besides being a cool object–I am not sure. Designed by Atelier Bow-Wow of Tokyo, the structure is described as a tool box from which things can be raised or lowered to the ground level.
I like the way the structure is inserted into a gap between a row of  tenements creating a passage linking E1st and Houston Street. I've photographed this gap and adjacent open space before–one image is in my book Time and Space on the Lower East Side.
Which brings me to my book. I have decided to work with a small New York publisher with the intention of bringing out Time and Space on the Lower East Side by the end of the year. I will provide more details later, once the deal is finalized, but I am confident that this will be a beautiful and successful book. It will require money, however, and I am planning to make use of Kickstarter, a web based fund raising platform for creative projects. I will, of course, let everyone know when the campaign is launched.
In the meantime, the current Blurb version of Time and Space remains available–but not for long. Once the new book is set into motion, the Blurb book will be withdrawn, never to appear again. Book collectors take note. The St. Mark's Bookshop has a few signed copies.