WTC montage — © Brian Rose
In my book, WTC, I used cropped close-ups of the facade of the Twin Towers to break up the different groupings , or chapters, of photographs. I found them intriguing as images on their own–abstract, but clearly identifiable. One of them shows a strip of blue, which is the sky between the two towers. A few months ago I began playing with close-ups in Photoshop making montages of the images, eventually settling on a sequence with the strip of sky in the center–as seen above.
I presented the montage to FAB (Fourth Arts Block), which is sponsoring a program called ArtUp. FAB  is located on E4th Street between 2nd and 3rd Avenues, a block full of theaters and other cultural organizations. Several of the groups are renovating their buildings necessitating sidewalk sheds to protect passersby. FAB is making use of these scaffolding bridges to give artists the opportunity to show their work in a public space.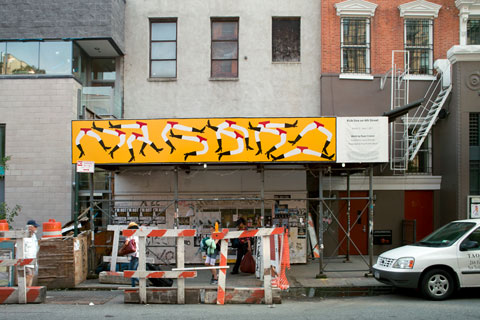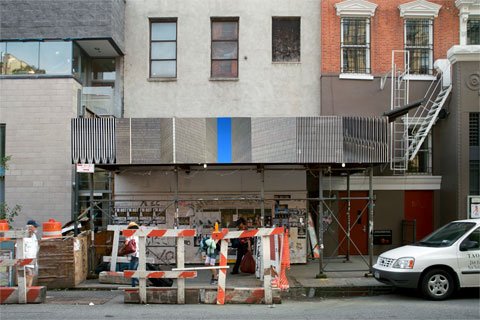 Sidewalk shed on E4th Street — © Brian Rose
Earlier ArtUP piece (top photo), WTC proposal (below)
I am pleased to report that that I have been invited by FAB to mount my WTC montage on the sidewalk shed pictured above. I've seen several of the previous installations, and the best of them are site specific. My montage, as originally conceived, almost fits perfectly on the sidewalk shed–4×28 feet. The strip of images will be printed on vinyl or Tyvek and attached to the plywood backing of the shed. Assuming good color and sharpness, it will look something like the superimposed image above. The orange and white barricades will be removed soon reducing a lot of visual clutter. Directly across the street, FAB runs a cafe that caters to the theater going public, as well as the local neighborhood, and I will be able use a wall inside for supporting material, probably a number of photographs and text panels.
Although I have to admit that I hoped for a more prominent location for the piece somewhere downtown, I am wholly enthusiastic about doing this installation here. This is a very busy block with thousands of people walking by each day, and crowds lining up each evening to attend the theaters. Not only that, this is  the block where I lived when I first came to New York, where I worked with the Cooper Square Committee to preserve and build low income housing, and where I first met my wife who was visiting from the Netherlands. It is the block pictured on the cover of Time and Space on the Lower East Side, my book about the neighborhood. It is a very special place to me.
The installation will go up in late September when attention is focused on the 10th anniversary of 9/11. I will also be doing a slide talk based on my WTC book at the Mid-Manhattan branch of the public library around the same time as the opening on 4th Street. The dates for both events will be made available soon. WTC–both the installation and book–are modest in scale compared to what will be happening down at ground zero in a few months. But I hope they will serve as a kind of antidote to the Sturm und Drang that will accompany those major public events, and offer images of the World Trade Center that evoke memory and history without a repetition of the violent imagery that inevitably will be exploited by the media.
I feel strongly that artists–and New Yorkers–have a responsibility to step up and express alternate ways of commemorating 9/11. It happened to us, to our town, to our friends and loved ones, and it profoundly altered all our lives. This piece, ultimately, is about the ubiquitous presence of the Twin Towers on the skyline–as architecture and memory–and about its absence. A patch of blue sky.