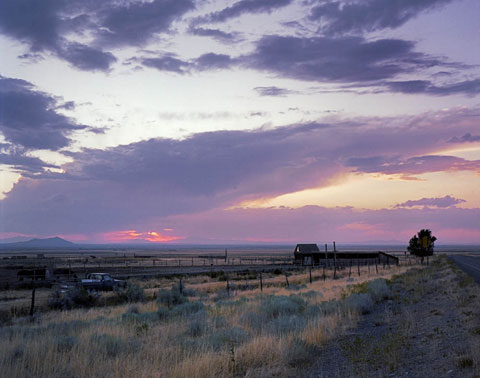 Somewhere in Wyoming, 1981 (4×5 film) — © Brian Rose
First some disappointing news. My application for a grant from the Graham Foundation to photograph the New Religious Landscape, a project focused on Megachurches and their surrounding areas was unsuccessful. At this point, it is just about impossible for me to take on ambitious projects like this without external funding.
I've spent the last two days writing an article for a special edition of the Fast Folk magazine dedicated to Jack Hardy, the late songwriter. Scroll down for earlier posts on Hardy. It is basically the story of my relationship with Jack from 1977 to 1984 during which time we hung out in Greenwich Village folk clubs,, traveled across country together and established the Fast Folk, a monthly LP/magazine of the latest songs from our weekly songwriters meetings. I may post the article here later, but I don't want to preempt the Fast Folk, which will be available online–probably through the Smithsonian Folkways record label. Stay tuned for that.
The photograph above was taken while driving with Hardy through Wyoming in 1981. There are many other pictures from that trip, and none have ever been printed. A slight light leak in my view camera caused streaking on about half of the images making them near impossible to print–the old way in the darkroom. The defect is easily remedied with Photoshop. So, stay tuned for a series of images taken all over the United States in the early '80s.