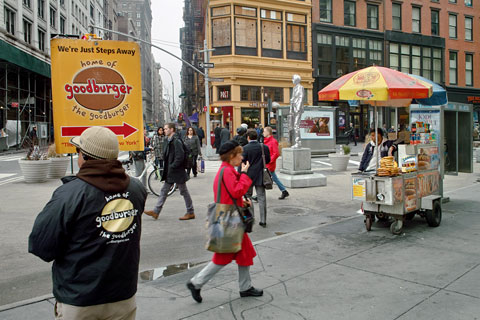 The Andy Monument, Broadway at Union Square Park — © Brian Rose
Union Square Park is home to some of the finest sculptures in New York City. These are mostly traditional likenesses of important historical figures like George Washington, Abraham Lincoln, Marquis De Lafayette, and Mahatma Gandhi. The Lafayette statue was made by Frédéric-Auguste Bartholdi (1834–1904), who also designed the Statue of Liberty  in New York Harbor. Although the park is often associated with the labor movement because it has frequently been the location of parades and political rallies, the name comes from the "union" of two major streets, Broadway and the Bowery Road, now called 4th Avenue. In the days after the attack on the World Trade Center in 2001, Union Square, in the plaza surrounding the Washington equestrian sculpture, became the site of one of the largest spontaneous memorials in the city.
The area around the park has gone through many ups and downs over the years, but in the 1970s it was considerably less vibrant economically than today. I remember the park in the late 70s as one big open air drug bazar, and few people who lived and worked around Union Square stepped foot in it. As is often the case in New York, however, depressed circumstances create opportunities for others. Artists, ever nomadic, found the lofts around the park cheap and spacious. One of them was Andy Warhol, the Pop Art icon of the era.  He and his "Factory" located on Union Square, became  a nexus of art, fashion, music, and commerce.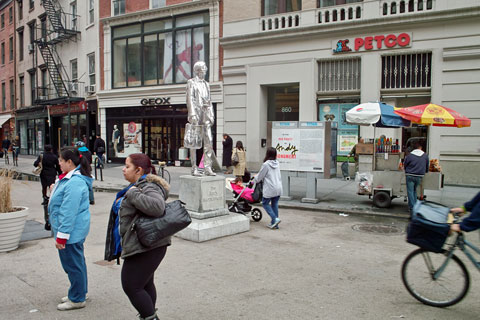 The Andy Monument, Broadway at Union Square Park — © Brian Rose
It is appropriate, therefore, that a statue be erected to the real and mythic Andy at the confluence of two of New York's earliest and most important highways. As I came across the chrome Andy Monument the other day on a silvery gray day, the statue seemed almost ethereal in the mist and drizzle. Unlike the other bronze statues in Union Square, which express solidity and historical weight, Andy floats vaguely, aloofly, above the throngs of shoppers and office workers passing by.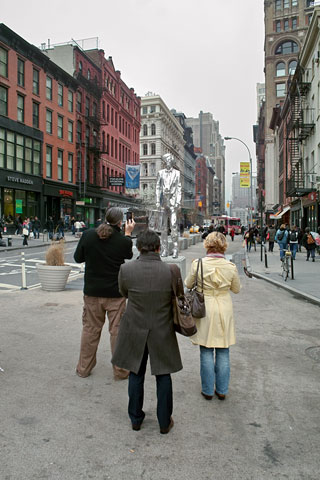 The Andy Monument, Broadway at Union Square Park — © Brian Rose
The sculpture is by Rob Pruitt and is sponsored by the Public Art Fund. Pruitt says:
Like so many other artists and performers and people who don't fit in because they're gay or otherwise different, Andy moved here to become who he was, to fulfill his dreams and make it big. He still represents that courage and that possibility. That's why I came to New York, and that's what my Andy Monument is about.
I took pictures for about five minutes. Most people walked on past, of course, but many stopped to make snapshots or read the adjacent text. It's rare for a public sculpture to engage the public (fancy that) as much as this one does. Too bad that it is here only until October.