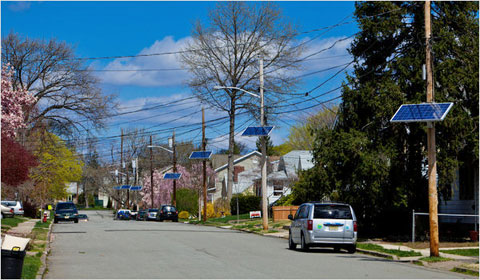 Fair Lawn, New Jersey — Juan Arredondo for The New York Times
I read with some amusement an article in the New York Times on New Jersey residents complaining about solar panels mounted on utility poles in their neighborhoods.
"I hate them," Mr. Olsen, 40, said of the row of panels attached to electrical poles across the street. "It's just an eyesore."
Some residents consider the overhanging panels "ugly" and "hideous" and worry aloud about the effect on property values.
Yes, looking at the photograph above there clearly is a problem. The street is cluttered with old wooden poles festooned with transformer boxes and draped with telephone and electrical wires. The solar panels merely add to the visual cacophony. This is how residential streets look all over the country–and I am sorry to say that most people have become blind to it. Moreover, in the current political and economic climate there is little hope that this design cancer will be addressed.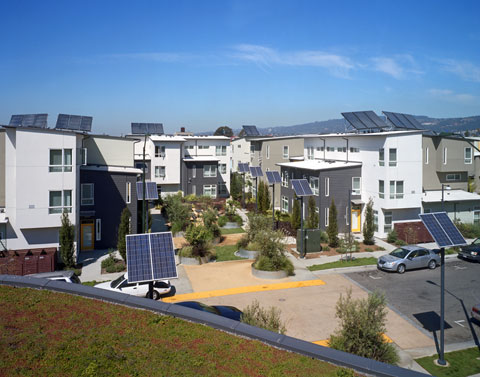 Tassafaronga Village, Oakland, California (4×5 film) — © Brian Rose
Recently, I photographed Tassafaronga Village in Oakland, California  for architect David Baker. It is comprised of low income and middle income housing. In the shot above I am looking over an undulating green roof toward townhouse apartments with solar panels mounted on stanchions and on the roofs. Utility lines are invisible–only the solar panels remain exposed. Imagine the street in New Jersey with a series of new appropriately designed poles mounted with solar panels. The panels would be plainly visible, of course, but the overall look greatly simplified. It could be done elegantly.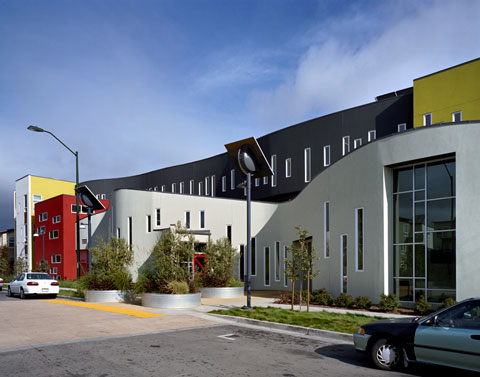 Tassafaronga Village, Oakland, California (4×5 film) — © Brian Rose
Here is another view of the project looking toward a larger apartment building containing community rooms and support offices. The previous view was shot from one of the narrow vertical windows on the second floor. Solar panels face south along the street.
As a society we are neglecting the public commons. Our communities are visually polluted with all kinds ill-considered utility structures, cheaply built municipal buildings, and unregulated strip developments. Present day political discourse is all about what we can't do rather than what we can do.
New Jersey: require the utility companies to bury those lines.