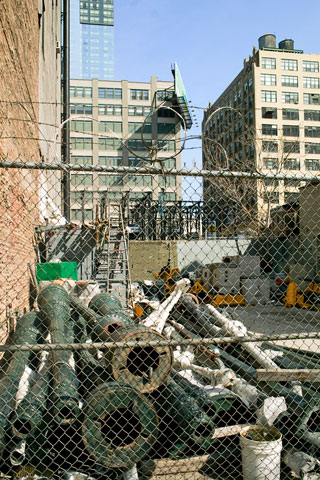 Hudson Street — © Brian Rose
Have been working on another grant application–this time with the Design Trust for Public Space. They have commissioned photographers in the past to explore different aspects of the urban landscape. This year the theme is "five borough farm," a project to survey and document urban agriculture around the city. The stipend is only $5,000, but one is also assured of an exhibition and publication. Just one photographer selected. I'd be perfect for this.
Last night I went to the Rattlestick Playwrights Theater in Greenwich Village to see Suzanne Vega perform her musical play "Carson McCullers Talks About Love." Years ago, Suzanne worked up a monologue based on the character of the author Carson McCullers–one of several female personalities that she has been drawn to, or taken inspiration from. It was, at that time, a minor but affecting performance.  She has now developed the idea into an ambitious portrayal of the writer with songs and music co-written with Duncan Sheik. The songs exhibit many of the familiar melodic and lyrical qualities of earlier Vega music; some are complete stand-alone songs; others are intended more to support the narrative of the play. At least that's my take on hearing them for the first time.
Suzanne assumes the character of Carson McCullers, with whom she shares a striking resemblance. She walks on stage as herself, gives a short introduction, and then dons a wig and removes her makeup at a mirror to better resemble the tomboyish McCullers. Like her earlier McCullers performance, it is essentially a monologue, but now there is occasional verbal interplay with a pianist and guitarist who remain on stage throughout the play.
It is not necessary to have read Carson McCullers to appreciate the play, though it certainly doesn't hurt to be familiar with her work and that of other mid-century American authors who she came in contact with, or compares herself to. One song, in fact, is full of boasts about how she, McCullers, is better than Harper Lee. Although there is sadness and tragedy in McCullers' personal story, Vega portrays her with a good deal of feisty wit and bravado.
For Suzanne, doing this play is a labor of love, beautifully realized, bestowed upon the audience.