Last weekend I went to AIPAD, the giant photography dealer's fair at the Armory on Park Avenue. I don't have any particular opinion about what I saw–a lot of photographs–no trends spotted. Not enough time or energy to think critically about such a dizzying display of dreck to pearls. Primary observation: more galleries present and a number from outside New York. Business seems to be picking up. So far, it's not helping me.
Afterward, I dashed uptown to the Guggenheim to meet my sister who was visiting from San Francisco. We wanted to see a video installation by Omer Fast who in 2005 made a piece dealing with Williamsburg, Virginia, the restored colonial capitol, and where we grew up.
From the 2008 Whitney Biennial:
In Godville (2005), a 51-minute, two-channel color video, historical reenactors at the Colonial Williamsburg living-history museum in Virginia describe their eighteenth-century characters' lives and their personal lives in ways that seem interchangeable. Fast splices the reenacted and real biographies together, often word-by-word, into a rambling narrative that is as aurally fluent as it is temporally dissonant. The work tells the story of a town in America whose residents are unmoored, floating somewhere between the past and the present, between revolution and reenactment, between fiction and life.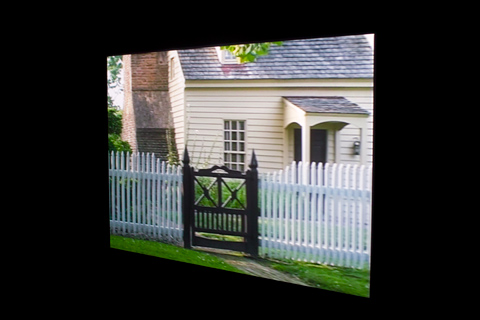 Godville by Omer Fast — seen at the Guggenheim Museum — © Brian Rose
Both my sister and I played roles in the open air museum of Colonial Williamsburg. I was part of the fife and drum corps, a professional musical group that performed regularly for visitors as well as for presidents and dignitaries. My sister was a costumed ticket taker, and later a costumed sweeper hostess at the nearby Busch Gardens "old Europe" theme park. A sweeper hostess, as I understand it, picked up trash and chatted with tourists.
I found the film fascinating, though unsure about its ultimate message. I liked the idea of intercutting between real and fictional, and in the process blurring the lines. I have made photographs of the architecture of Colonial Williamsburg, and was particularly interested in the juxtaposition of views of the historic structures and contemporary suburban neighborhoods. Confusing, however, was that many of the contemporary architectural and landscape images shown were not made in Williamsburg, but in unidentified generic locations.  Some of the images included mountains and scenes from the west, which I presume was intended to allude to larger American mythological themes.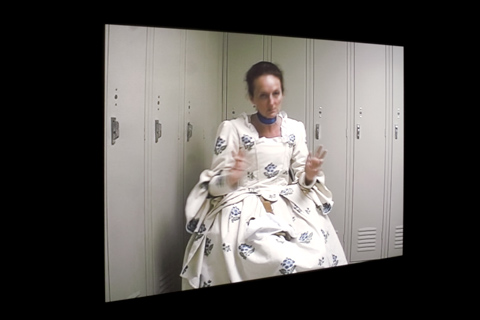 Godville by Omer Fast — seen at the Guggenheim Museum — © Brian Rose
Three costumed reenactors spoke either in character or from their real life experiences. Some of the time they were shown speaking uninterrupted, other times their words were chopped up and reconnected. The depiction of these people–and their words–is extremely manipulative, but I can't say that they were shown unsympathetically or portrayed unfavorably. It is, however, a highly problematic approach. Knowing what I know about art and media, I would be very wary of participating in such an enterprise.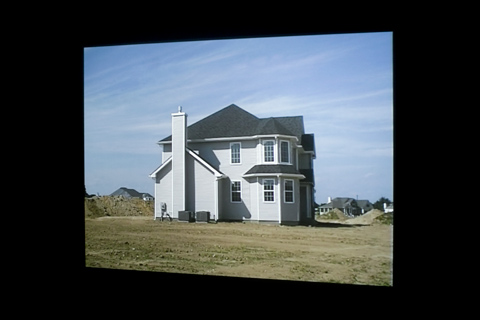 Godville by Omer Fast — seen at the Guggenheim Museum — © Brian Rose
In so many ways Colonial Williamsburg is an easy mark. It is easy to see it as kitsch and a distortion of American history. Too easy. There is lots of room for critical analysis, but unfortunately most of it to date has been facile. Omer Fast's Godville, despite my reservations, is worth seeing and thinking about. Not that many people visiting the Guggenheim are doing that. In the hour that I spent watching the video in the museum on a busy Sunday afternoon, not one person gave it more than a minute's attention.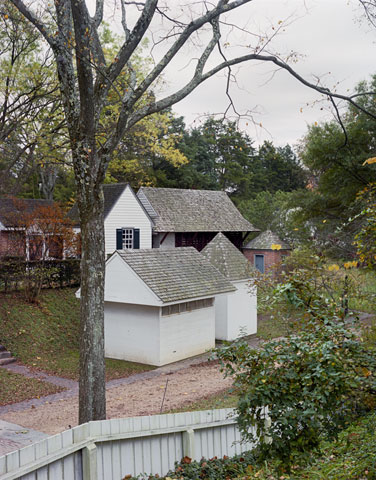 Colonial Williamsburg outbuildings  (4×5 film) — © Brian Rose
Which brings me to my own work dealing with Williamsburg. A number of years ago I photographed the outbuildings and surrounding gardens behind the main buildings. The pictures deal with the structures as architectural vocabulary filtered through modern interpretation and context. On the one hand they reveal the complex dichotomy of old and new, and on the other hand they are what they are–formally composed, often beautiful, collections of little buildings, fences, and trees.
Since it appears I will be continuing to go down to Williamsburg in the future–my father still lives there, and my mother may return there soon, I am thinking I should revisit the project. The idea I have is to photograph some of the new urbanist communities that have been developed outside of the restored area–places that recycle the architectural and urban planning vocabulary of the past–and juxtapose those pictures with the ones I have taken of the outbuildings and dependencies of Colonial Williamsburg.