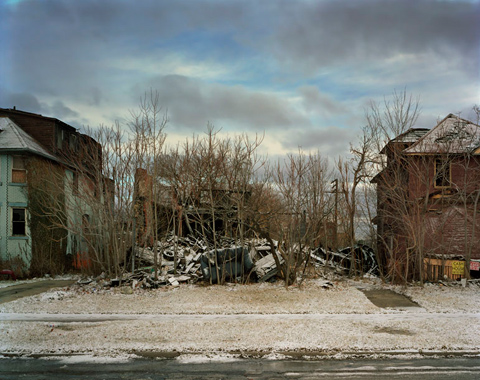 Couch in Trees by Andrew Moore
I went to a slide talk by Andrew Moore at the Mid-Manhattan library last night. I'll be doing a talk there myself on March 29–see my homepage for information. Moore is around my age, also an early practitioner of color, and normally uses a view camera. Moore's latest work deals with Detroit, principally what has happened to this once great industrial powerhouse, now a symbol of American decline.
Many of Moore's photographs describe the ruins of Detroit. Much has been written recently about "ruin porn" and photographic exploitation, and Moore's work is frequently pointed to–either positively or negatively. I am not prepared to comment at length on the subject, at least for the moment, but I will say that Moore came across last night as open and sympathetic. There was some push back from several people who have roots in Detroit and who feel that Moore's work does not treat the place altogether fairly. But in general I felt it was a useful and respectful conversation all around.
Here is an article about the subject.
I will be addressing some of the same concerns when I do my presentation in two weeks. I expect that some people will appreciate my evenhanded approach to photographing the Lower East Side, while others may feel that it doesn't engage the politics of gentrification directly enough. I, too, have photographed ruins–as well as new construction. Sometimes it is hard to tell the two apart, which is one of the points I want to make.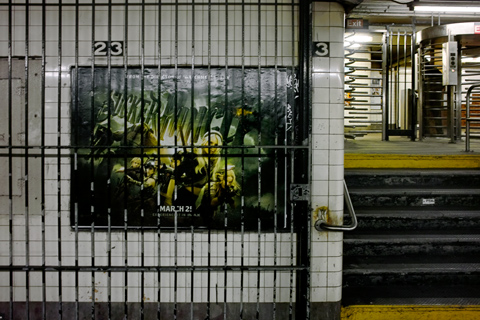 23rd Street subway station — © Brian Rose
Sucker Punch.