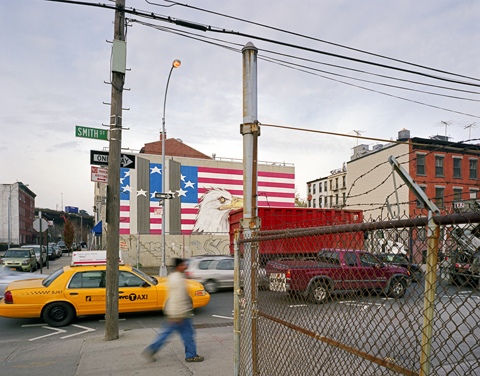 Smith Street, Brooklyn (4×5 film) — © Brian Rose
I finally got the film back from the subway trip to Smith Street in the area near the Gowanus Canal. The image in WTC was from my small digital camera–the one above is from a 4×5 negative. Several pictures I took there are usable, but I think I will stick with this view.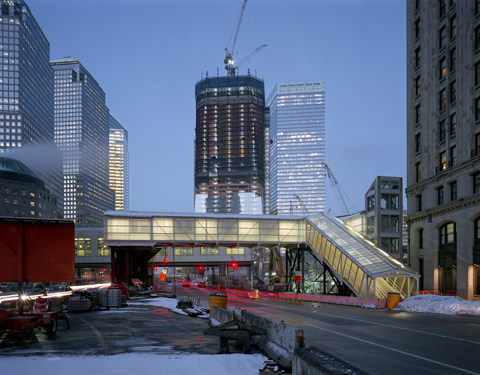 West Street (4×5 film) — © Brian Rose
This is the 4×5 version of an image posted earlier show 1 WTC and 7 WTC in the center.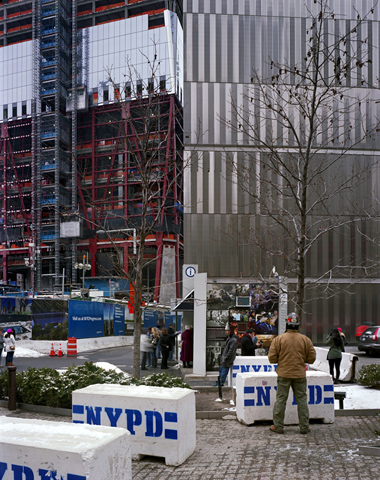 Info kiosk with 1 and 7 WTC (4×5 film) — © Brian Rose
I will update my WTC book with the images above and the two below. I've felt that the series needed strengthening near the end. These should do the trick.
At this point, unless something unexpected happens with a publisher, I am planning on putting this book out on Blurb in two sizes–the full size 11×13 hardcover and an 8×10 hard and softcover. The smaller books will sell for $45 to $55 as opposed to $100 plus for the larger size. From an aesthetic standpoint, the 11×13 best conveys the monumental nature of the subject, but the small book will look good, too. All three of my self-produced books will be available in the 8×10 format including Time and Space on the Lower East Side and Berlin: In from the Cold.
I'll post a new link to the updated book once it's ready. Link here.