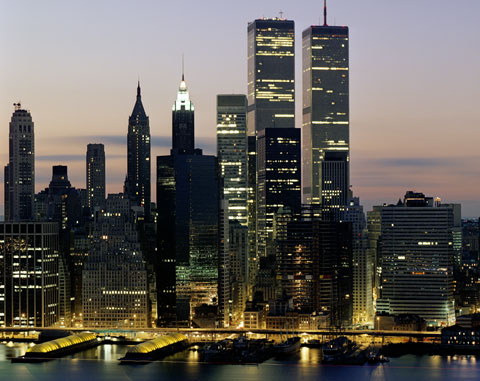 Lower Manhattan Skyline, 1982 (4×5 film) — © Brian Rose and Ed Fausty
This is lower Manhattan at its most heroic and romantic seen from the upper floor of a building in Brooklyn Heights. Since 1982, several bulky buildings have blocked up the foreground and obscured the thin spires of the early 20th century–and of course, the Twin Towers are gone. 1 World Trade Center is about 50 floors up now, and soon it will begin to rise above everything else.
After receiving a hardcopy version of WTC, my new book proposal concerning the World Trade Center, I decided to make a few changes. Text smaller, a few sequence tweaks, and a new end piece. I also created a text page opposite the image of the Deutsche Bank building, a cursed structure if ever there was one, only now about to fully demolished. It needed some explication.
I am reaching out to everyone I can about the book. I have some very good contacts, but limited. I need someone to come through for me on this. Otherwise, I'm not sure how this book will see the light of day.
The new version of WTC can be previewed here.