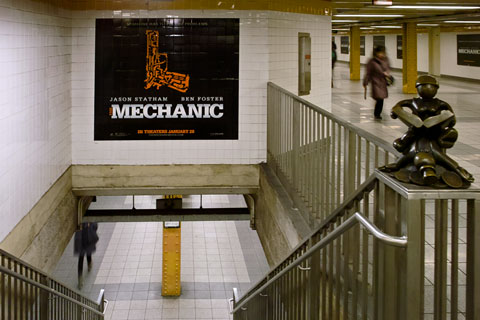 We are awash in gun imagery from Sarah Palin's congressional crosshairs to the latest Hollywood movie Mechanic. The slogan along the top reads:
Someone has to fix the problems.
ENOUGH.
***
While I was talking this photograph an MTA employee walked by and in a stern voice said "You can't take pictures down here!" I said, "Yes I can." He just continued walking, but had he stopped I would have been happy to point him to:
Section 1050.9
Restricted areas and activities.
3. Photography, filming or video recording in any facility or conveyance is permitted except that ancillary equipment such as lights, reflectors or tripods may not be used. Members of the press holding valid identification issued by the New York City Police Department are hereby authorized to use necessary ancillary equipment. All photographic activity must be conducted in accordance with the provisions of this Part.