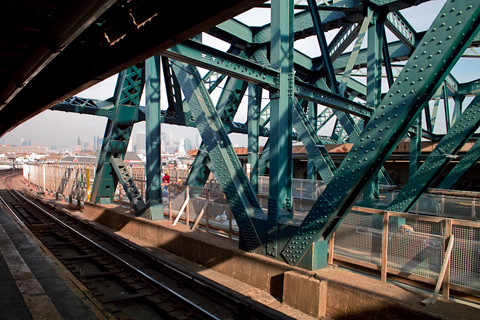 Smith Street Station, Brooklyn — © Brian Rose
If you've been following this blog, you know that I have been piecing together a series of images that relate directly or indirectly to the World Trade Center. A couple of years ago I came across a Twin Towers mural near the Gowanus Canal in Brooklyn. I did a quick snapshot of it with the intention of returning to photograph it with the view camera. This morning, I finally got back there.
I took the F Train, which emerges from underground just past Carroll Gardens in Brooklyn. The tracks are carried high up on a massive steel bridge that spans the Gowanus Canal, an infamously polluted industrial area that has become a haven for artists, and as a result, ripe for upper middle class development. With the downturn in the economy, however, and given the cost of cleaning up the area, not much has happened. The Gowanus is still a fabulously gritty blue collar lowland between Carroll Gardens and Park Slope, two of Brooklyn's most desirable neighborhoods.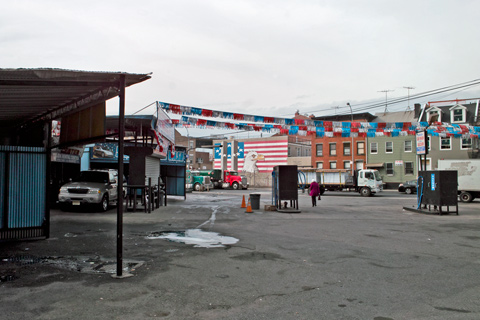 WTC mural on Smith Street, Brooklyn — © Brian Rose
Across the street from the subway entrance is a somewhat forlorn car wash decorated with tattered red white and blue streamers–but across Smith Street a row of old houses with slanted roofs and dormer windows is being renovated. The WTC mural with its flag motif  is painted on the side of a small building next to a chain linked vacant lot. Across the street from the mural is a heating oil depot where trucks drive up and fill their tanks. A glass enclosed command post overlooks the operation, and when I set up my camera on the asphalt just off the sidewalk, I was informed by a stern voice coming over a loudspeaker that I was standing on private property. I managed to get off one shot with my 4×5 camera.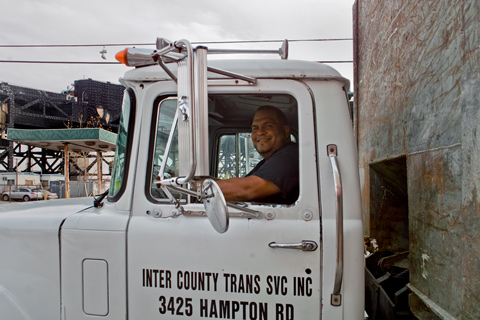 Smith Street, Brooklyn — © Brian Rose
Retreating from the oil depot, I went across the street and set up the camera at an oblique angle to the mural. Promptly, a gruff voice barked accusingly, "Are you taking a picture of my truck?" I jerked my head toward the voice, and saw a grinning face sitting behind the wheel of a truck with a battered container mounted behind. He was kidding. I told him I just got yelled at by the guys across the street, and was a little jumpy. We chatted a bit, he smiled for the camera and roared off.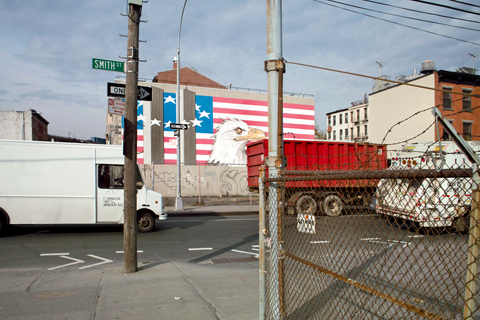 WTC mural on Smith Street, Brooklyn — © Brian Rose
Here is the image taken from "private property." And while I think the 4×5 shot will be good, I really like these two white trucks caught left and right in the frame. You don't see it the pictures, but there were lots of people walking around–some pretty damaged people it seemed to me–probably coming from some sort of social services facility nearby. Others were standing around under the subway viaduct waiting for a bus, or perhaps, waiting to be picked up as day laborers.
One guy started talking to me, asked me what I was doing. I pointed to the mural and told him I was photographing WTC things. He asked me about the mosque/cultural center proposed for downtown near ground zero. I looked at him more intently–he seemed to be Hispanic–I didn't ask him where he was from. He had just seen an article in the paper. The group building the center was applying for money meant to support projects around the Word Trade Center site. The right wingers were agitating again. He wanted to know what I thought about it. I said, " I know Christians, Jews, and I know Muslims. This is New York. I think they should be able to build their center. He said, somewhat to my surprise, "I'm with you."