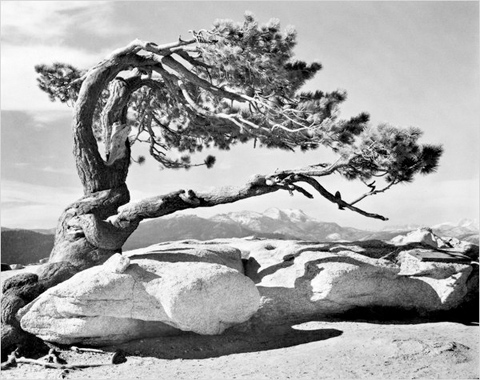 Photograph by Ansel Adams
By now you have probably heard about the controversy surrounding a bunch of negatives of Yosemite National park attributed to Ansel Adams. Rick Norsigian from California bought them at a garage sale for $45 and now a dealer is selling them for $200 million. Now there's more.
From the New York Times:
Then an 87-year-old woman surfaced to say that she had three prints that looked a lot like Mr. Norsigian's images — one was hanging in her bathroom — and that they had been shot, she said, not by Adams, but by Earl Brooks, her uncle, who was a little-known photographer.
Now Melinda Pillsbury-Foster says her grandfather Arthur C. Pillsbury, a well-known photographer of the period, should be added to the list of possible creators of the images of Yosemite park and the Northern California coast that Mr. Norsigian bought a decade ago.
It seems they all photographed the same subjects with view cameras around the same period of time–Adams, of course, being the more famous by far. As with the story of the newly uncovered Jackson Pollocks–or forgeries–the interest is all about money and the potential undermining of a brand jealously guarded by dealers and estates. None of this has anything to do with the art itself.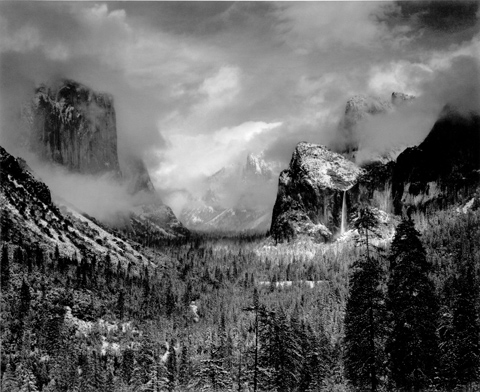 Yosemite Valley by Ansel Adams
Which is where I will get myself in trouble with some folks. I'm sorry, but some of us long ago became photographers because, among a few other more positive reasons, we hated Ansel Adams' photographs and the whole heroic landscape aesthetic. I am well aware that Adams did a lot to put photography on the map, and that his pictures were important to the creation of the National Park system. But there was never a more stultifying influence on photography than Adams and his zone system, and the attendant cult-like worship of the silver print. Moreover, his depiction of America as a land of untrammeled beauty was always a lie–even before we realized how rapidly our environment was being despoiled.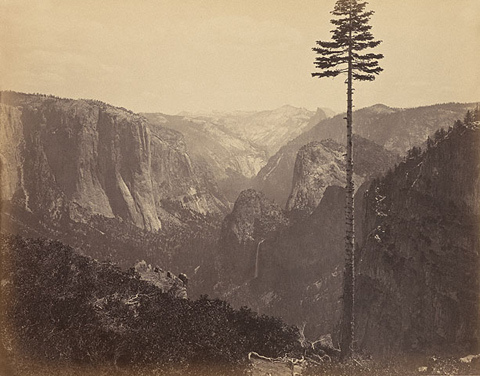 Yosemite Valley by Carleton Watkins
Before there was Adams, photographers like William Henry Jackson and Carleton Watkins revealed the majestic scope of the American west to the public. Their images, while meticulously and artfully composed, were as much utilitarian as aesthetic. In contrast, Adams' images–especially printed in almost surreal high dynamic range–are bombastic, theatrical.
Adams is popular because his work offers escape rather than engagement. His self-consciously composed images of a pristine American landscape were nostalgic and retrograde the second they were taken, and in today's political climate of global warming deniers and "drill baby drill" extremists, Adams' imagery supports, however unintended, an anodyne version of American ideals.
It seemed that way to me in 1970 when as a teenager I first started taking pictures–well before the "new topographics" rejiggered our way of seeing the landscape–and nothing since has changed my opinion.