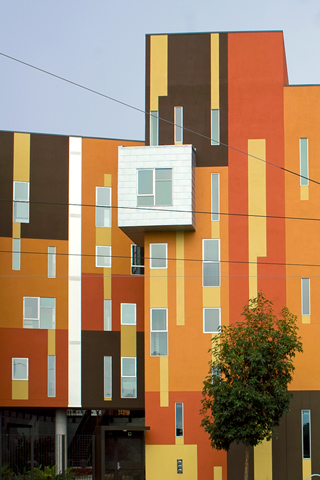 Armstrong Senior Housing — © Brian Rose
Amstrong Senior Housing by architect David Baker.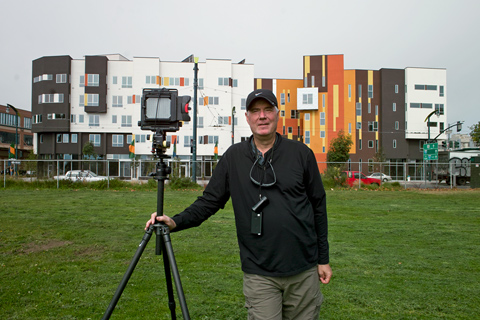 Brian Rose in front of Armstrong Senior Housing — © Chris Gallagher
After several beautiful days, the weather has not cooperated. I spent an entire day battling intermittent fog trying to photograph Armstrong Senior Housing on 3rd Street in Bayview, San Francisco. The picture above was made in weak sunlight with a mostly white sky behind. Not what I want for this brightly colored facade.
As you can see, I'm still using the 4×5 view camera, but I don't know how much longer I will do it. The current plan is to keep using the big camera for my personal projects, and go to digital for client assignments. I don't relish returning to loading holders after a couple of decades of using pre-packaged film. Fuji has stopped producing the film, though there is enough in the stores to last six months or so.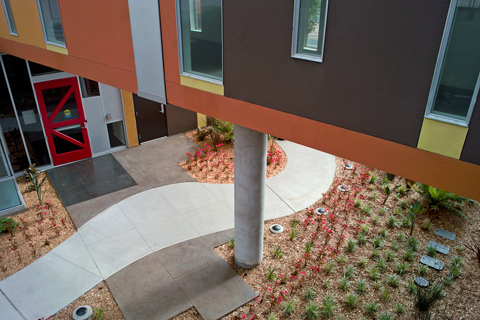 Armstrong Senior Housing — © Brian Rose
The courtyard with David Baker signature red door.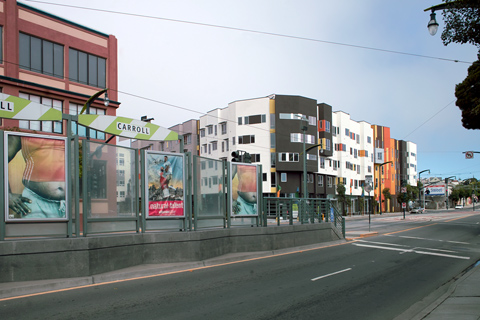 Armstrong Senior Housing and light rail station — © Brian Rose
Bayview-Hunter's Point, a largely low income neighborhood–mostly African American–feels remote from the rest of the city although a light rail line along 3rd Street has greatly improved its accessibility.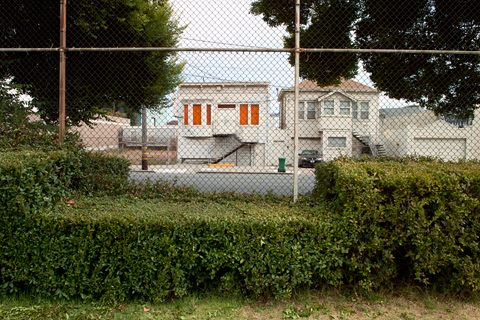 Armstrong Avenue — © Brian Rose
The house above with the orange windows is used as a church. While I was there, dozens of people, mostly Asians, came running from all directions with carts and bags to pick up free food being distributed in the church parking lot.
The following day was little better with substantial cloud cover much of the day. I did several pictures of the courtyard, and managed to catch the sun peeking through a few times. But at this point I have to return to New York to meet other obligations. I'll be headed back to San Francisco as quickly as possible to complete the work.