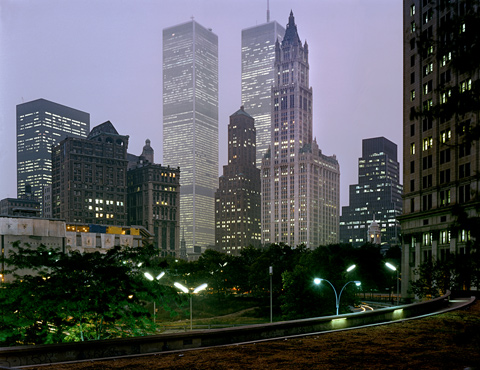 World Trade Center and Woolworth Building, 1982 (4×5 film) — © Brian Rose/Ed Fausty
One key image of the World Trade Center that I did with Ed Fausty in 1982 has been missing for many years.  I've been through every negative I have from that period of time. The 4×5 is definitely gone forever. Recently, however, I found a print of that image in one of my boxes–a 16×20, slightly yellowed, but otherwise in pretty good shape.
I have scanned the print at high resolution, and the much reduced jpeg can be seen above. My vantage point is somewhere on the raised plaza of Police Headquarters–not sure that the same spot can still be reached. To the right above the trees is the cupola of City Hall, and the spire of St. Paul's is center left.
Be sure to click on the photo for a larger view.