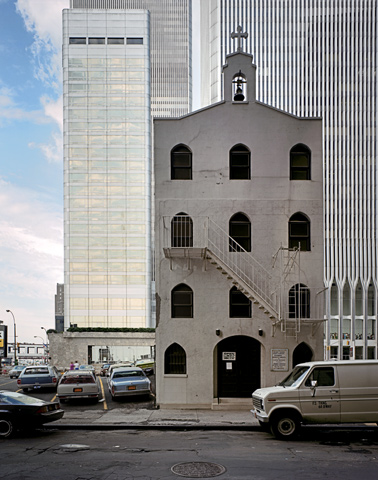 St. Nicholas Church, 1981 (4×5) — © Brian Rose/Ed Fausty
In midst of the furor about the proposed Islamic center a few blocks from ground zero, the Greek Orthodox Archdiocese has held a press conference to call attention to the long stalled rebuilding of St. Nicholas's Church, which was destroyed on 9/11.
At a news conference near the trade center site, church officials appeared with former Gov. George E. Pataki and a Greek-American Congressional candidate from Long Island — both opponents of the Islamic center — to make their case: Government officials who appear to be clearing the way for the center, which includes a mosque, are blocking the reconstruction of St. Nicholas Church, the only house of worship destroyed in the terrorist attacks.
Beautiful. Let's all get as nakedly political as possible.