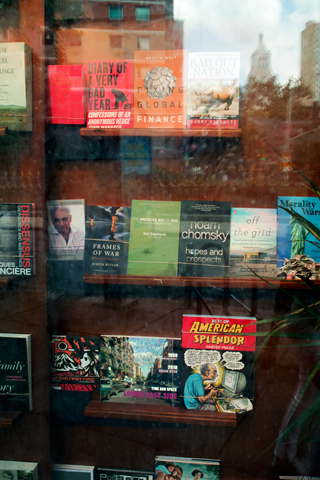 St. Mark's Bookshop window — © Brian Rose
Time and Space on the Lower East Side is now available at St. Mark's Bookshop in the East Village at Third Avenue and Stuyvesant Street–that's between St. Mark's Place and East 9th Street. The copies at St. Mark's are slightly more expensive than buying online from Blurb, but they are signed and you won't have to wait a couple of weeks for a book to be printed. Although it's displayed in the shop window, since it's a limited edition artist's book, you may have to ask for it behind the counter.
As I've written elsewhere, this a very collectible book and may not be available in this form later. Please consider buying online or at St. Mark's. It's not about money for me, but about convincing a publisher that this book is worth taking on. And please consider posting an encouraging comment on the Time and Space Blurb page. Every little bit helps.