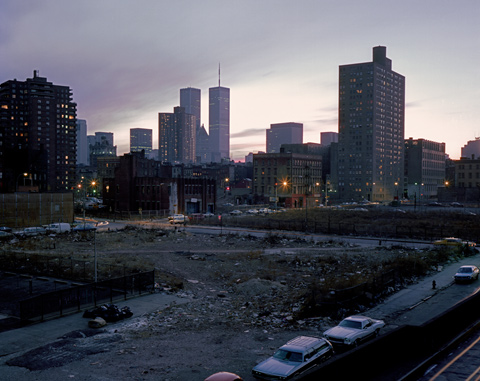 From the Williamsburg Bridge, 1980 (4×5 film) — © Brian Rose and Ed Fausty
There are several 1980 photographs from Time and Space on the Lower East Side that were not included in the original exhibition, either because they were overlooked or had technical problems. The photo above was difficult to print, the dark foreground and relatively bright sky, a bit of camera shake from the vibrating bridge.  In Photoshop, however, I was able to solve most of the problems, though the slight shake remains, just barely noticeable when enlarged.
Stan Banos of Reciprocity Failure went through all the entries in the Blurb Photography Book Now contest, and came up with five stand outs, including his own book, Small Rewards. I trolled through the 2,000 plus books myself–rather randomly–it would take hours to see them all. And I'm not sure whether I feel uplifted by the incredible energy that went into them, or depressed by how few are really special. I'm pleased, however, to be included as one of Stan's picks.
Reciprocity Failure (Blurb contest picks)
Reciprocity Failure (earlier post)
Other blogs:
EV Grieve, 1st post
EV Grieve, 2nd post
City Room, the New York Times