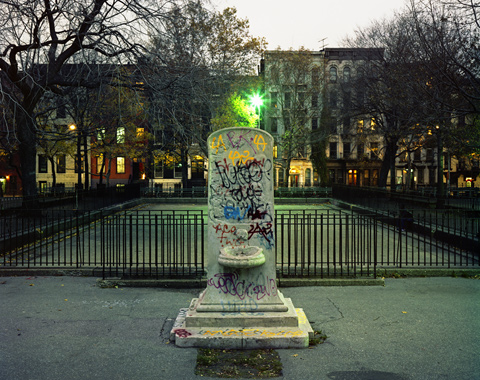 General Slocum memorial, 1980 (4×5 film) — © Brian Rose and Ed Fausty
From Time and Space on the Lower East Side:
The General Slocum
In 1904 over 1,300 members of the  St. Mark's Evangelical Lutheran Church located on East 6th Street,  mostly women and children of the German immigrant community known as Kleindeutschland, set out for their annual picnic trip on the vessel the General Slocum. A fire broke out while steaming up the East River approaching Hell Gate near the present location of the Triborough Bridge.
The ship quickly became engulfed in flames, and over a thousand perished–burned to death or drowned in the swift current of the river. The loss of life, and subsequent drama surrounding the investigation of the event, was unprecedented. The German community of the Lower East Side was decimated, never to recover. It was the worst disaster in the city's history until the terrorist attack on the World Trade Center in 2001.
The Slocum memorial in Tompkins Square Park is astonshingly modest given the scale of the calamity, especially in comparison to the complex being constructed on the World Trade Center site. When Ed Fausty and I photographed it in 1980 it was covered in grafitti making its inscription almost unreadable. At that time, despite living in a building directly across the street from one that had housed four of the victims, I had never heard of the General Slocum.