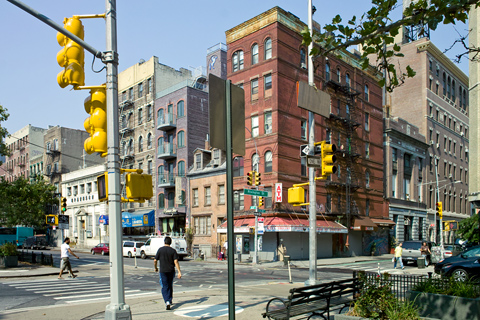 Rivington and Allen Street — © Brian Rose
An interesting review in Friday's Times about a multi-gallery group show based on the chapters of Richard's Price's book Lush Life, a crime novel set in the Lower East Side. Nine galleries and nine book chapters. Hope to take a look at some of the exhibits later today.
Holland Cotter of the Times feels that the Price pulls his punches with "anodyne doses of redemption" that undercut "whatever moral complexity the story might have had." I'm not sure about that, but I do think that Lush Life is a splendidly vivid depiction of the present day Lower East Side. So much written about the neighborhood is seeped in nostalgia, and contemporary commentators often slip into elegiac despair when talking about the Lower East Side that was. Price writes about the place as it is.
Cotter concludes his review nicely by saying that even if you haven't read the book, the show "will still get you walking the streets of a neighborhood that is, with continuing transformation, both a threat and a promise, a morality tale in itself."