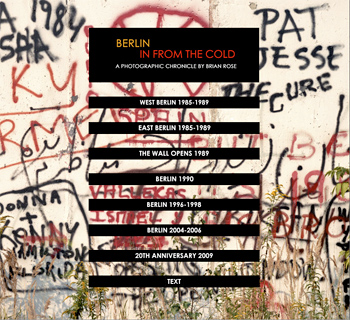 I have now linked my Berlin project–Berlin: In From the Cold–to my main website. The project covers the Wall, it's demise, and the gradual re-emergence  of a new city overlaid onto the often dark history of the old. Some of the photographs were originally included in the Lost Border, but most have never before been exhibited or published.
The entire series is also available in printed form via Blurb, the online book service. You can page through the book below, or go directly to Blurb where the book is available for purchase. This is likely be a very limited run, so I encourage you to pick one up while you can.
In other news, I am still pursuing an eventual exhibition of my Lower East Side photographs, waiting for the funding to come through for a project involving a number of photographers documenting the state of Iowa, and I just met with architect Michael Mills, and architectural historian Meredith Bzdak to discuss a possible book about the Louis Kahn bath house in Trenton, which is currently being restored.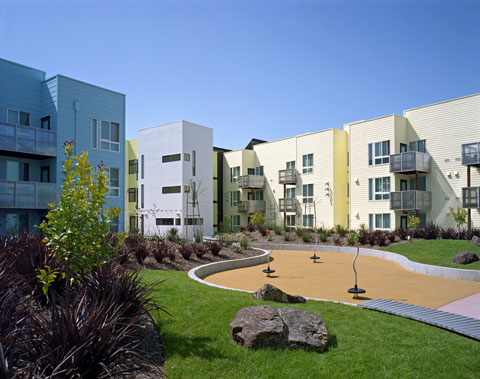 Iron Horse at Central Station, Oakland, California, affordable housing designed by David Baker (4×5 film) — © Brian Rose
The architectural field has been hit pretty hard by the recession, which we may or may not be recovering from. But despite the drop off in work, I am hanging in there. The projects above are what I try to keep focused on, but they do not pay the bills. It's a difficult time to be a free lance photographer, especially one specializing in architecture. But the recent trip, photographing David Baker's brilliant housing complexes in the San Francisco Bay Area, came at a good time and was a rejuvenating experience in many ways.
I am also contemplating getting back into the studio to record some of my songs, new and old, which I have continued to write over the years. I am hoping to work with my friend Jack Hardy, the songwriter, who is an expert at guerilla recording–throwing a band together and hitting the studio. Stay tuned…  Which at this point in time is a pretty anachronistic expression.