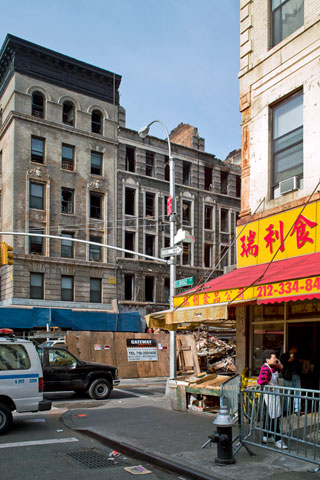 Grand and Eldridge Streets — © Brian Rose
Just over a week ago there was a fire in two buildings on Grand between Eldridge and Forsythe, about five blocks away from my studio on Stanton Street. It was one of the worst fire in years in New York City–seven alarms–killing one and routing two hundred from their apartments. 283 and 285 Grand have been reduced to shells, and are in the process of being demolished. The most grievous losses, of course, are human, including the loss of personal possessions, and as a cab driver told me yesterday, the likely loss of life savings–cash stored in the apartments by the Chinese immigrants who did not have access to bank accounts.
But as one who has chronicled the visual history of the neighborhood, I feel it is necessary to note the passing of two more tenement buildings, the infamous building type that once dominated the Lower East Side, that formed the richly decorated, fire escape encrusted, walls of the cavernous streets. These buildings were from the beginning meant for the poor, and 283 and 285 Grand were still housing the poor 110 years on the night of their destruction.
I walked down to Grand Street this morning to survey the scene, and brought my view camera with me. The photograph above, taken with my digital camera, shows the burnt out buildings at center, the top floor already removed, and a mound of debris piled in the street below. Fire helmeted inspectors sifted through the rubble. The corner building, badly damaged and now empty, will be spared, but the twin tenements will be gone in a few days.
The photograph could have been taken in 1980 when I first began my Lower East Side project with fellow photographer Ed Fausty. At that time there were dozens of abandoned burnt-out tenements all over the neighborhood. Nights were punctuated by the whoops and honks of fire engines rushing to yet another blaze, often set intentionally by landlords hoping to squeeze a few insurance dollars out of their ruinously neglected properties. Those days are long past, but one has to wonder about this fire, which happened in a building rife with city violations, and comprised primarily of rent controlled and rent stabilized apartments.
Here are dramatic pictures of the fire.