I've been working on my Berlin photographs since my trip there in December, which coincided with the 20th anniversary of the fall of the Wall. I have integrated those pictures into the series, and have decided to put it all up on the web. Here is the title web page: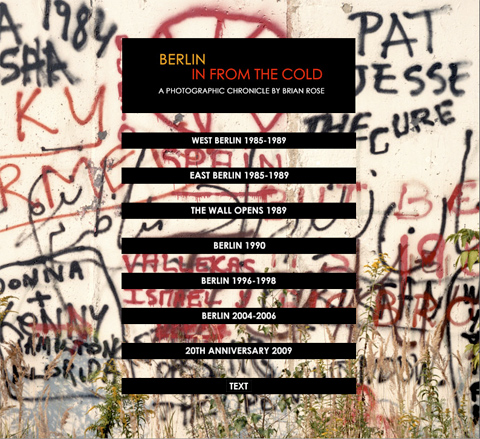 The website is more or less done, although the photos are not clickable for larger images yet. Nor have I linked the site to my homepage. But here is a sneak preview. Or click on the image above. UPDATE: images now clickable.
I have also updated my Blurb book proposal, which has been changed to a smaller size–8×10–and currently available for purchase as I cast about for a publisher or exhibition opportunity. The 8×10 version of the book is much more affordable, and is available in soft and hardcover. If it ever gets published it will likely end up altered in some way. So this is my unedited presentation of the photographs. Since I did the book without a graphic designer, I kept the layout simple. Feel free to preview the book below. Click on full screen to see it properly.
This website and book represent a huge effort on my part done over a long span of time–1985 to 2009. About 14 trips all together. About 1/3 of the pictures were included in the Lost Border book, but the rest have never been published or exhibited. It only became clear to me that I had a separate story focused on Berlin after I had completed the Lost Border.
I'm off to San Francisco in a few days to photograph some buildings for architect David Baker. I'll be blogging from the Bay Area, one of my favorite places.