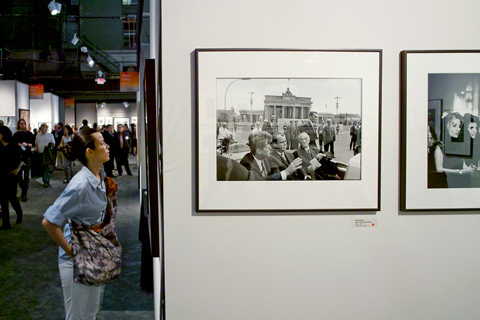 AIPAD photography show — © Brian Rose
I went to the AIPAD show at the Armory with Eve Kessler and Art Presson, good friends who have a wonderful collection of photographs. It's fun seeing what the galleries are putting forward, though not always particularly illuminating. New technology showcased by a few galleries in which still and moving images were combined was mostly embarrassing–especially in the company of classic 20th century black and white photography. Color images by Robert Voit–centrally placed cellphone towers disguised as trees–and distantly held landscapes by Sze Tsung Leong–consistent horizon line–continue the Becher inspired, gallery-friendly, trend of typologies. I like their images, but but find the approach self-limiting.
The image above by Will McBride jumped out at me because of its kinship to my own Berlin work. It's John F. Kennedy in an open car with Willy Brandt and Konrad Adenauer in front of the recently walled off Brandenburg Gate. That photo was made in 1963. Here are two images of the Brandenburg Gate from 1989 and 2009.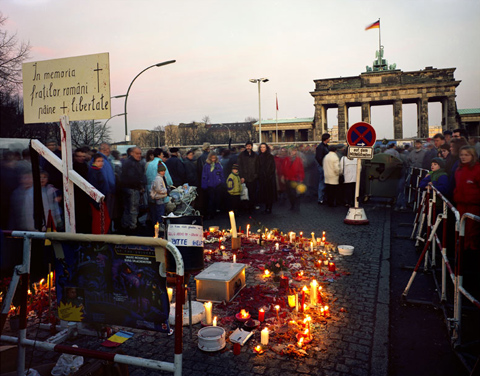 The Brandenburg Gate a short time after the opening of the Berlin Wall (4×5 film)
— © Brian Rose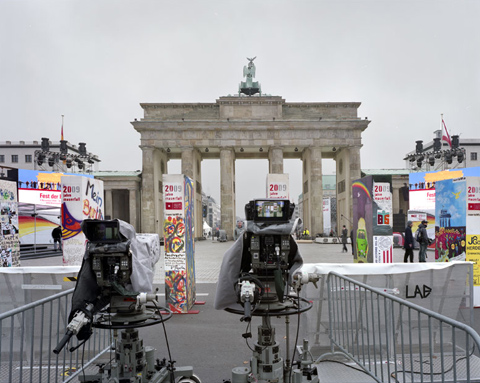 The Brandenburg Gate on the occasion of the 2oth anniversary of the fall of the Wall (4×5 film)
— © Brian Rose
http://www.brianrose.com/lostborder.htm
http://www.brianrose.com/infromthecold.htm
Oh, and just a little perspective on the healthcare legislation that passed Congress last night. The Dutch newspaper De Volkskrant in the subheading of its lead story states: "America took a historical step toward a European tinted healthcare system." It may seem a radical step to some in the U.S.–but to much of the world, it's seen as a belated catching up.