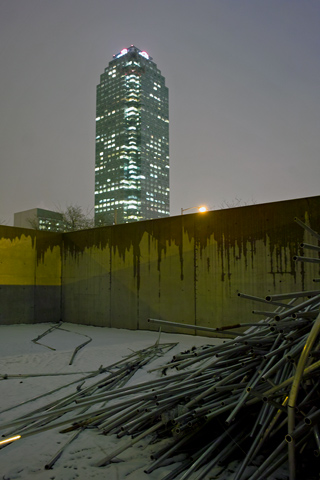 P.S.1, Long Island City — © Brian Rose
Coming out of P.S.1, the Long Island City art museum, I pressed my camera up against the wall and did an almost sharp time exposure. In the foreground are metal tubes left over from an earlier installation. Having just seen Robert Bergman's haunted and hollowed out faces at the museum I find myself in a rather somber mood as the 00's come to an end.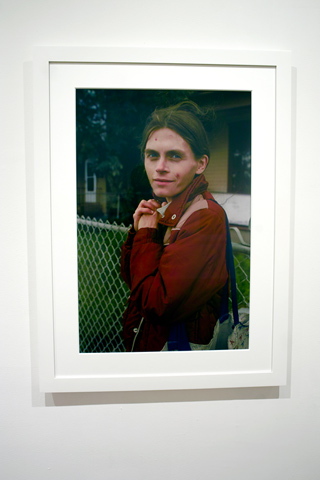 Robert Bergman photograph at P.S. 1 — © Brian Rose
Bergman's photographs are beautiful, disturbingly so. But I don't subscribe to Toni Morrison's description of his pictures that they assert "community, the unextinguishable sacredness of the human race." It has become obligatory to find redemptive qualities where none exists. Not that the people in Bergman's photos lack human tenacity–of course they do–but their faces express the damage of surviving on the margins of society, held in the amber glow of Bergman's light and color. They are roadside totems–mute, unidentified–storied eyes that suggest hard wisdom. But most of us would recoil from these quite likely rambling, chaotic, figures in the flesh.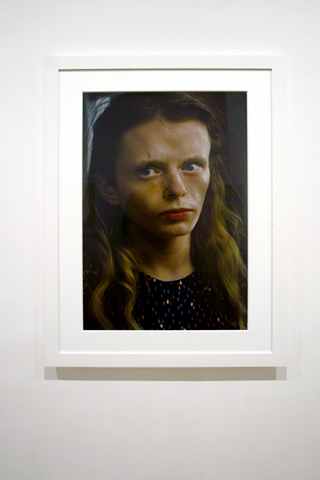 Robert Bergman photograph at P.S. 1 — © Brian Rose

The beauty found belies a cruelty, one of the central dichotomies of photography, that people and things must be "sacrificed" on the altar of art. The redemption, if there is any, is that Bergman succeeds at street portraiture where so many other photographers fail, and with these gravely intense images, the end justifies the means.
Washington Post article here.