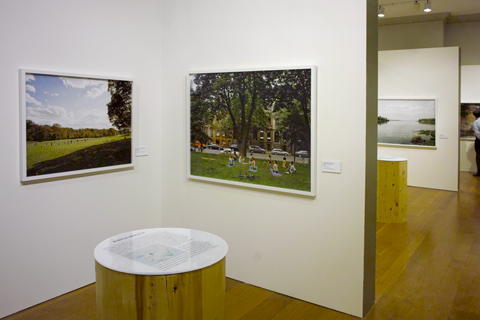 Meyerowitz exhibition at MCNY — © Brian Rose
Writing about Joel Meyerowitz is complicated for me. While a student at MICA in Baltimore in the mid '70s, I saw his color street photography, and having just begun shooting color myself, I endeavored to go to New York and study with him at Cooper Union. My success at getting into Cooper was a critical event in my life, and the experiences I had there greatly influenced and shaped my later career.
Meyerowitz's show at the Museum of the City of New York, Legacy: The Preservation of Wilderness in New York City Parks, is particularly problematic for me to write about because I did my own survey of New York's natural park areas back in the '80s, 30 years before Meyerowitz came to the subject on his own. Go here to see that work.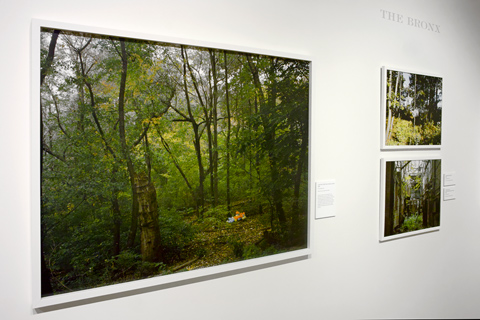 Meyerowitz exhibition at MCNY — © Brian Rose
I really like this image, party balloons incongruously discovered in the depths of apparent wilderness, actually a fenced-off patch of Central Park.
Legacy, the exhibition, seems to me unsure about its focus and intention. It seeks to be at once a celebration of the richness of New York's surprisingly spacious natural landscape, and a showcase of Joel Meyerowitz, "master photographer." But because the images are grouped primarily by borough and park, other possible lines of continuity and inquiry are cut off. A different organization of photographs could have revealed deeper connections in content and method of working. There are any number of substantial images in the exhibit, but their cumulative power has been dispersed. What we're presented with is a user-friendly Baedeker to New York's natural parks.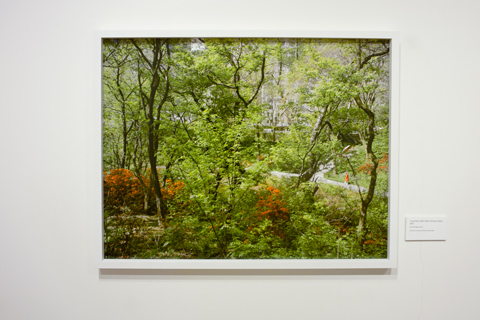 Meyerowitz exhibition at MCNY — © Brian Rose
A fantasia of red and green, an unnaturally vibrant print, in my view.
Another factor cheapening the impact of many of the images is the overly saturated color–the blindingly phosphorescent greens and reds–nothing like the beautifully modulated color of Meyerowitz's earlier analog prints. New York's parks have been digitally enhanced.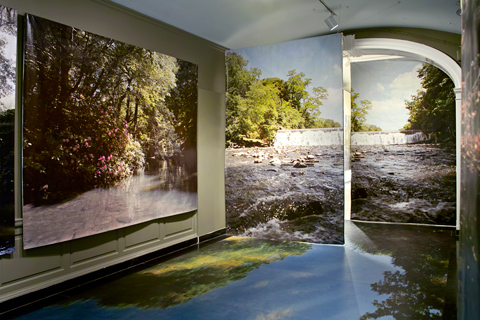 Meyerowitz exhibition at MCNY — © Brian Rose
The opening wall-sized murals printed on loose, Tyvek paper are nothing less than cringe inducing–Meyerowitz photographs as shower curtains. Unfortunately, a few of the strongest images in the show–once you're past the Bronx River adventure ride (seen above)–are printed in this way.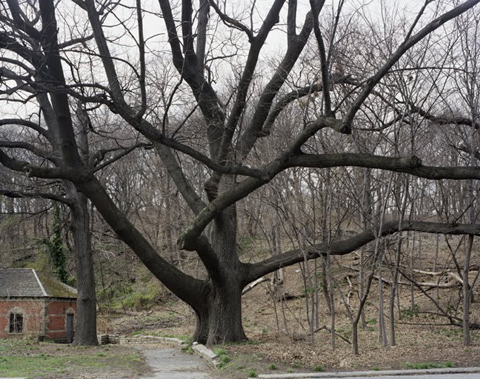 Photograph by Joel Meyerowitz
The naked armature of an immense tree in Brooklyn, thick branches almost defying gravity. An admirably straightforward image made without any need for visual contrivance.
Much of what went wrong with Legacy can be found here:
"Experiencing the print quality and longevity of HP Designjet photo printers was a key turning point in my own personal digital transformation," said Joel Meyerowitz. "HP's innovative printing technology has made it easy to express my work in new, creative ways and with this project, I was not only able to showcase exhibit-quality prints but also high-quality, immersive wall graphics that capture the essence of New York City's parks." Go here for the whole press release.
Enough said.