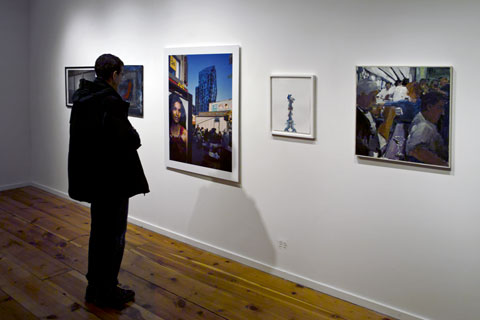 La Mama gallery, E1st Street — © Brian Rose
The large Lower East Side print I made for my exhibition in Brooklyn last summer, is now hanging in a group show at La Mama gallery on E1st Street between the Bowery and Second Avenue. It's a holiday exhibition featuring friends of La Mama, the pioneering theater located on E4th Street, the block where I used to live.
I had a nice chat with Howard Guttenplan the director of the Millenium Film Workshop, also on 4th Street, who had a photo collage in the exhibit. Millenium has been around for forty years promoting independent cinema, particularly art and documentary films.
The exhibition at La Mama is a grab bag of stuff of differing levels of accomplishment. It's meant to be an inclusive show. The opening was well attended, nicely catered, and I was very pleased with how my photograph looked on the wall. Now, if only I can find a home for it when the show comes down.