The last–probably–of the 4×5 film scans of from my recent trip to Berlin. I shot about 60 sheets of film, so there's lots to work with. Some of these are similar to digital pics posted earlier. When things get reduced to 72 dpi, the difference between the 4×5 scans and the images made with my pocket camera can seem minimal. But I think these have greater clarity, and more presence somehow. Obviously, when printed, the difference is huge.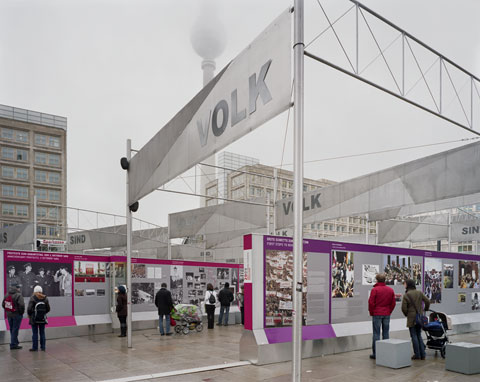 Alexanderplatz (4×5 film) — © Brian Rose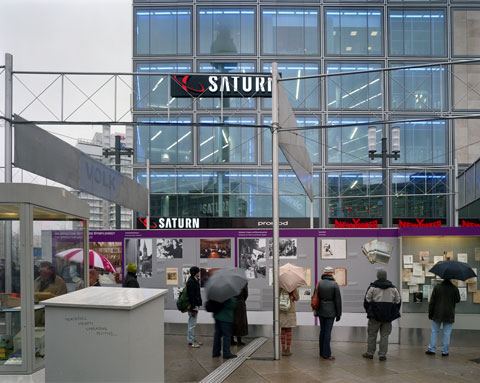 Alexanderplatz (4×5 film) — © Brian Rose
A fascinating exhibition about the political resistance that undermined the DDR regime–and other East European countries–and helped lead to the fall of the Wall in 1989. The American and western perspective, in general, is so oriented to Cold War geopolitics, that this side of the story is almost completely ignored. It is a profound misrepresentation of history, and exhibits like this, bit by bit, offer a much needed corrective.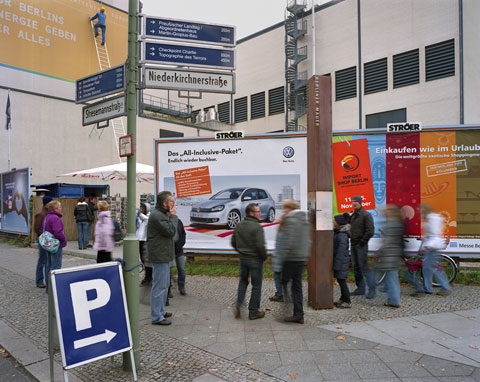 Niederkirchnerstrasse (4×5 film) — © Brian Rose
Berlin Wall marker with push button audio commentary.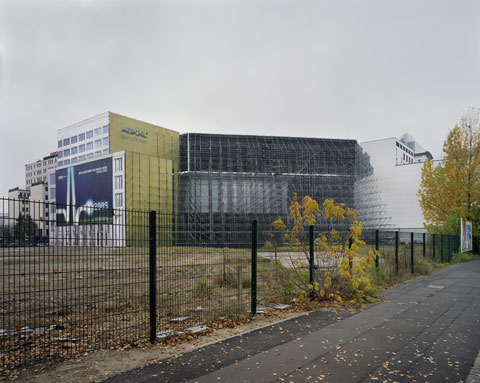 Vossstrasse (4×5 film) — © Brian Rose
One of the many scaffold buildings around Berlin. Some of them depict buildings to be rebuilt or reimagined, and others are simply giant canvases for advertising. A Microsoft Windows ad was on the the front side of this one, which formed part of the former, and future, streetwall of Leipziger Platz.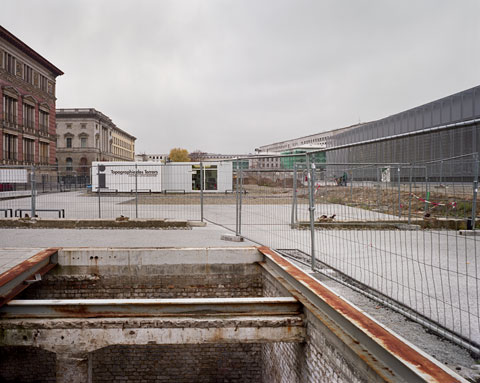 Topography of Terror (4×5 film) — © Brian Rose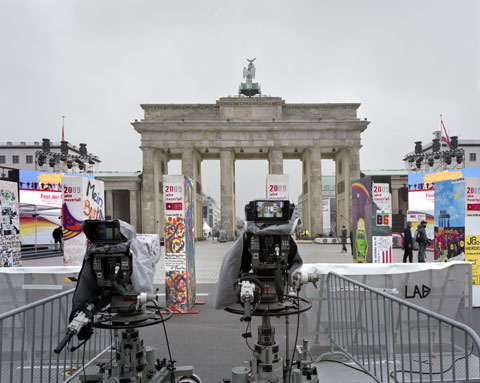 Brandenburg Gate (4×5 film) — © Brian Rose
Cameras in position on December 8th, for the following evening's event celebrating the 20th anniversary of the fall of the Berlin Wall.