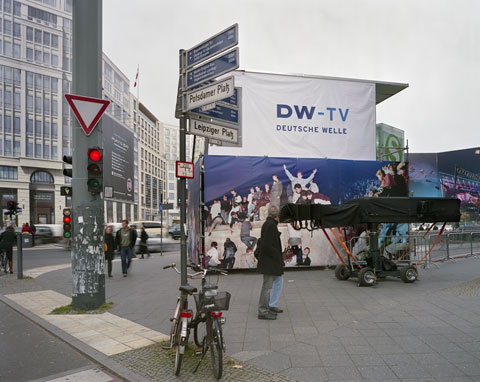 Potsdamer Platz (4×5 film) — © Brian Rose
Three images not shown earlier when blogging from Berlin. This one made at Potsdamer Platz, a TV boom and control booth, an image of joyous Germans climbing on the Wall in 1989, and trompe l'oeil buildings and scaffolding ads behind on adjacent Leipziger Platz.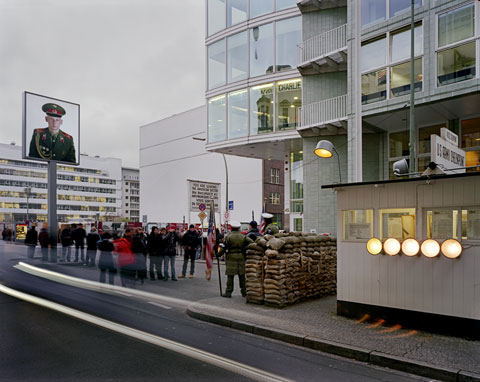 Checkpoint Charlie (4×5 film) — © Brian Rose
A crude reconstruction of the 1961 checkpoint shed with sandbags and lights–never there in the historical photos I've seen. Tourists pose with fake American soldiers who wave the flag around cavalierly. Haus am Checkpoint Charlie museum is across the street and to the right. An image of a Soviet soldier on the left is an art piece by Frank Thiel. The other side shows an American soldier.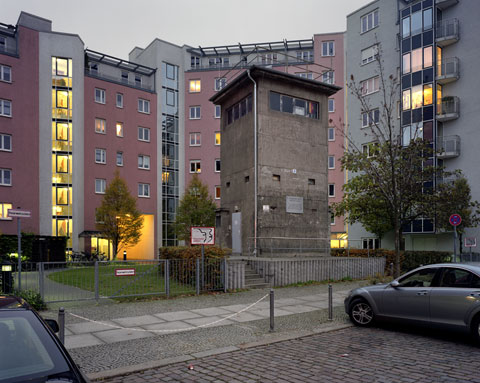 Watchtower/memorial (4×5 film) — © Brian Rose
Günter Litfin memorial, first victim of the newly erected Berlin Wall. A remaining guard tower surrounded by post 1989 housing.