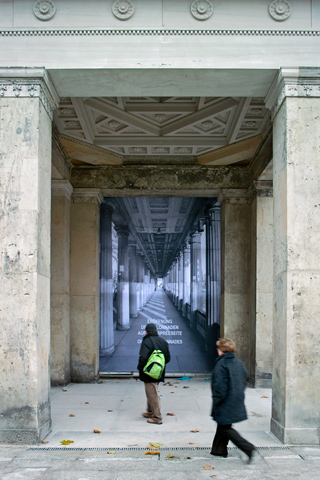 Neues Museum Colonnade — © Brian Rose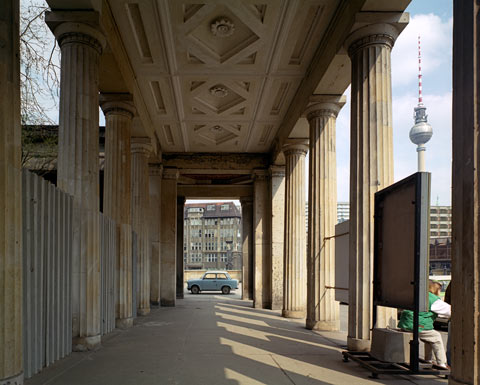 Neues Museum colonnade, 1987 (4×5 film) — © Brian Rose
Having run out of 4×5 film I took it easy on Friday. I hoped to see the Neues Museum, which has been restored with modern insertions by David Chipperfield, but the lines to purchase timed tickets for later in the afternoon were too long for me. Walking past the colonnade I photographed back in 1987, when this was East Berlin, I saw that the columns looked more or less as they did 22 years ago. Restoration was still taking place, and a part of the colonnade was under construction and would re-open soon. A black and white photograph set in the frame of the colonnade showed what lay behind it.
I was pleased to see that The Lost Border was on the shelf of the nearby Walter König bookstore, and later, I found it in Bücher Bogen as well. The latter is one of the best art/architecture/photograhy bookstores anywhere. The salesman said that they had sold seven of my books–not a lot of books–but better than average for a photography book.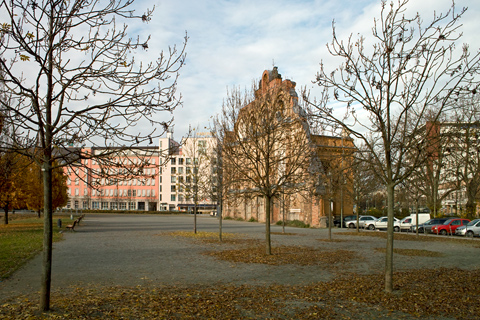 Anhalter Bahnhof ruin — © Brian Rose
Heading back to my hotel I passed the nearby ruins of the Anhalter Bahnhof, one of the stations employed in deporting Jews to concentration camps during the war years. The station facade once sat in vacant bombed out space, but new buildings and sports facilities have grown up around it, as well as in the open swath of former railroad tracks.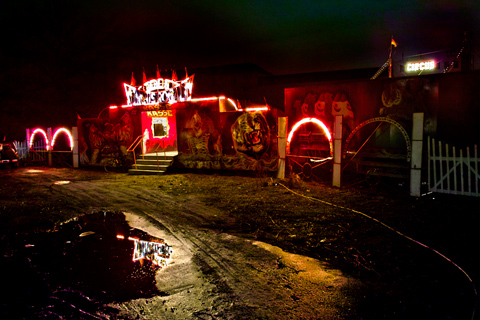 Stresemannstrasse — © Brian Rose
Between the station and my hotel there are still vacant lots–it's surprising after all the rebuilding of Berlin how much empty space remains in the center of the city. A constant through all my travels here are small tent circuses set up in one vacant spot or another. In Wim Wender's film Himmel über Berlin (Wings of Desire), one of the angels watching over the city falls in love with a trapeze artist from just such a circus located near the former Wall.
Next to my hotel was yet another circus standing in a muddy lot full of scruffy bushes and trees. I placed my point-and-shoot camera on the top of a gate, and used the self-timer to take the long exposure above. Music and crowd noises wafted from the tent off in the darkness.