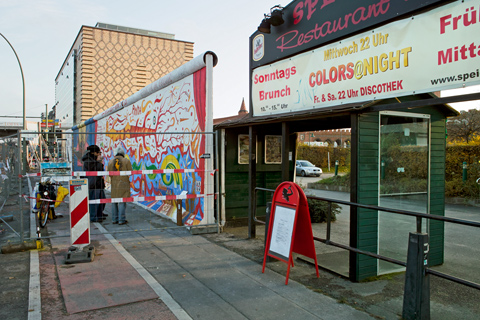 East Side Gallery — © Brian Rose
The East Side Gallery is the longest stretch of Berlin Wall still standing–its survival due to the murals that were done on it just after the Wall was opened. Over the years the paintings deteriorated, and there was talk of removing the whole thing. Fortunately, the murals are being restored, in many cases by the original artists.
On Thursday, the sun actually came out in Berlin, and I did a number of photographs of the East Side Gallery. Not the murals themselves–they've been documented adequately–but the scene in general. The mural side of the Wall faces northeast, and as a result, does not get much sunlight. A few painters were working on their segments of the Wall as seen above. There's a gap in the Wall to the right because of a club/restaurant situated in an old building that stood in the former death strip between the inner and outer walls.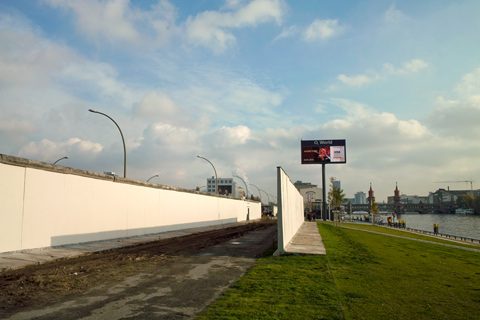 East Side Gallery — © Brian Rose
This was a pretty desolate industrial area before the Wall came down, and now there is a huge new music hall called O2 located nearby looking like an alien space ship. A number of large video screens like the one above advertising an upcoming André Rieu concert dot the landscape. To the right are the towers of the Oberbaumbrücke, which once stood within East Berlin.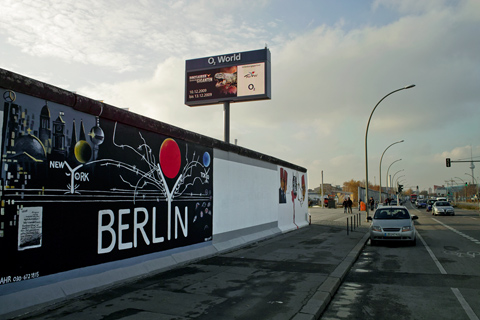 East Side Gallery — © Brian Rose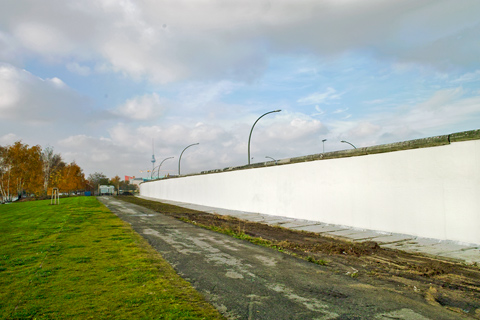 East Side Gallery — © Brian Rose

East Side Gallery — © Brian Rose
It may seem strange to see such a clean white Berlin Wall, but this is what it looked like on the east side where people could not approach the Wall, much less paint on it. The last photograph I took–my last sheet of 4×5 film–was at the north end of the East Side Gallery across from the Ost Bahnhof where there is a messy collection of ad hoc graffiti and paintings including a depiction of Mstislav Rostropovich performing at the Berlin Wall just a few days after its opening.