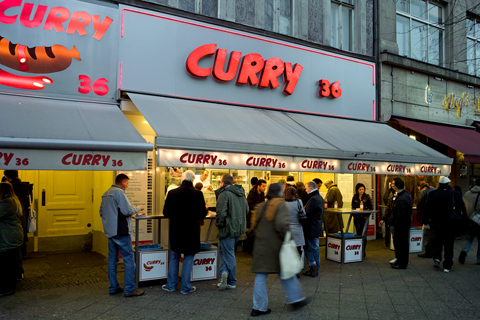 Curry 36, Berlin — © Brian Rose
Not much time for haute cuisine on this trip to Berlin. Mostly I've been picking up food on the fly. The two classic Berlin fast foods are currywurst and dönner kebab. I've had great dönner in the past, but this time I've been sampling currywurst–basically, grilled sausage drenched in ketchup and sprinkled with curry powder. Often served with fries.
Berliners (and tourists) argue about where you can get the best currywurst, but it's like New Yorkers arguing about the best pizza by the slice (Ray's on Prince Street). When it good, it's perfect. Nothing more to do to it or take away from it. It is what it is. When in Berlin, go to Curry 36.