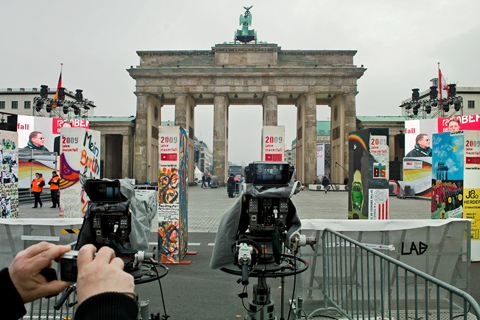 The Brandenburg Gate, Berlin — © Brian Rose
Tomorrow will be the 20th anniversary of the fall–or opening–of the Berlin Wall. I am here in Berlin to do a last round of photographs of the subject I've come back to over and over since 1985. There are thousands of people milling the streets along the trace of the Wall in the center of the city, most there to see the 1000+ painted dominos that will fall symbolically tomorrow evening.
The crush of people makes it difficult for me with my 4×5 camera, but I jumped into the crowd today with some good results, I think. Tomorrow, I don't expect to get anywhere near the main event, and will work the periphery of the crowd.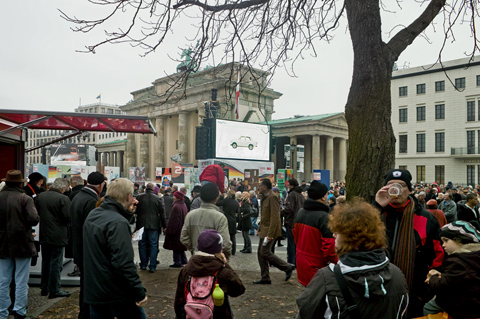 The Brandenburg Gate, Berlin — © Brian Rose
The anniversary celebration is turning into a mega media event dominated by German TV, which will follow the fall of the dominos from moving cameras running along wires above the street. There will be celebrities galore, music performances, and various side events that I am just beginning to find out about. I believe Hilary Clinton is in town for a speech.
It is also an orgy of German kitsch and commercialism. Giant screens are mounted along the route of the dominos, and during the afternoon I viewed, among other things, an extended tribute to the carmaker Audi, and a video performance of an incredibly sappy ballad "One World, One Heart," sung by Eleni. The last time I was in Berlin was during the run up to the World Cup soccer tournament, and there was a similar "we have arrived" vibe to things. I don't begrudge Germans the opportunity to celebrate–but in so many ways this celebration goes beyond the reunification of Germany. The fall of the Wall signaled the end of communism, and was ultimately a triumph of freedom over tyranny. You may insert cynical comment here ___.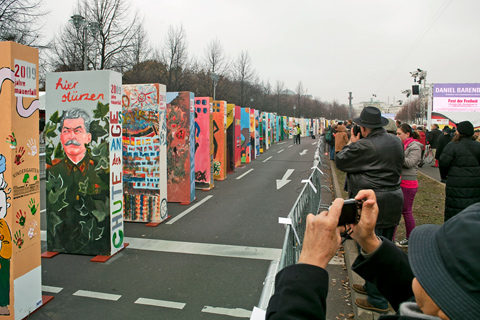 Stalin domino — © Brian Rose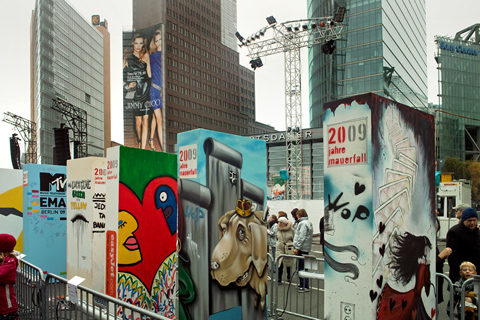 Potsdamer Platz — © Brian Rose
Imagine, if you can, what it's like using a 4×5 view camera in the midst of literally thousands of hand held digital cameras. I stand out. Lots of people make comments or stop to chat–always friendly of course. I butcher some German, they butcher some English, and it's all great fun. It could be intimidating, so many cameras, and so many serious expensive ones. But I've been at this game for a long time now, and I trust my instincts.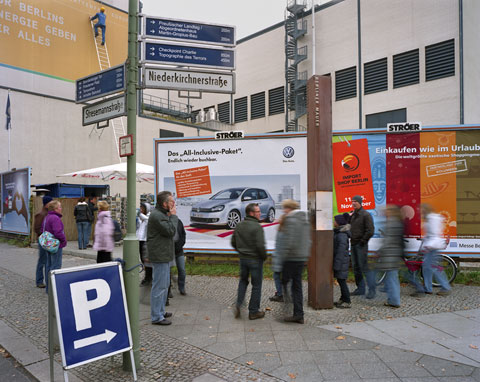 Wall marker — © Brian Rose
Some tourists listen to audio commentary coming from the pylon marking a point along the path of the former Wall. Until a short time ago there was little help provided if you wanted to trace the Wall's path. Now, the 20 year old vanished Wall seems more real than ever, an integral part of the historical palimpsest that draws visitors to the city.