Some people fall through the cracks–maybe lots of people fall through the cracks. It's a fact that there are many extraordinary artists and musicians afoot who have not received the attention or accolades they deserve. I know a number of such people who remain neglected, but quite vital and alive, outside the gated community of the photo/art world.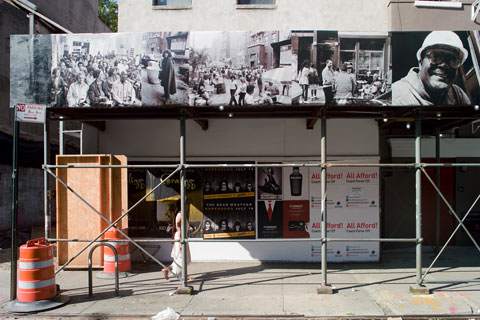 Alex Harsley exhibition on East 4th Street — © Brian Rose
No one is more hidden in plain sight than Alex Harsley, who maintains a small gallery on East 4th Street between Second and Third Avenues in the East Village, the block I lived on when I first came to New York–where I met my wife. I've written about Alex before–here and here.
As I walked down East 4th Street the other day, I came across a selection of his photographs affixed to the sidewalk shed of a building under construction. It turns out the installation is a small project of FAB, Fourth Arts Block, the umbrella organization representing the theaters and other cultural institutions on East 4th Street.
ArtUp, FAB's public art program, is a rotating installation of artwork on the scaffolding bridge located on East 4th Street between Bowery & 2nd Avenue. With more than $16 million in renovations to the East 4th Street Cultural District underway, ArtUp seeks to transform the stodgy and dodgy look of construction sites and scaffolding into a streetside gallery.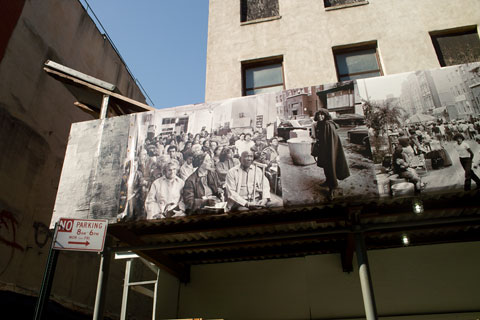 Cooper Square meeting and Ellen Stewart of La Mama theater
© Brian Rose
Harsley's photographs on the scaffolding feature people and events associated with the arts and politics of this colorful, and sometimes contentious, piece of New York. Harsley has been documenting this area for decades. To the left is a picture of a community meeting, one of hundreds held over the years, by the Cooper Square Committee, an advocate for affordable housing. To the right of that is Ellen Stewart, the founder and director of La Mama theater, one of the most important creative incubators in the city.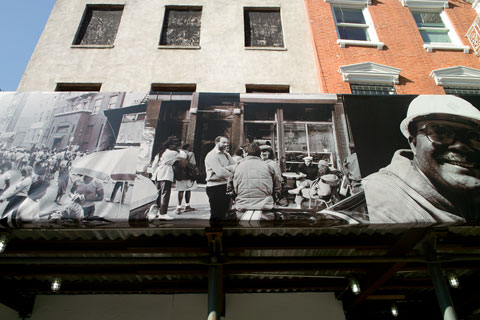 Harsley photos with Dawoud Bey and Wilbert Tatum
© Brian Rose

In the center is a photo of block festival and then comes an image of people congregating in front of Alex's gallery–the noted photographer Dawoud Bey sits at a round table next to Shirley Campbell, a local resident. And on the end, is a portrait of the late Wilbert Tatum, who lived around the block and was the editor and publisher of the Amsterdam News, one of the nation's oldest continuously published black newspapers.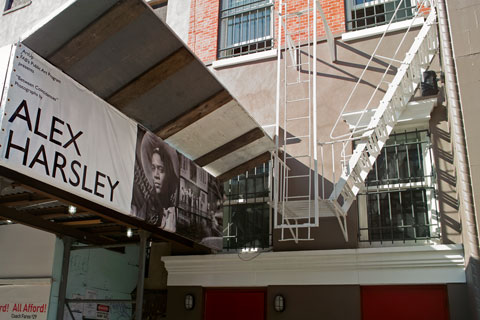 Alex Harsley exhibition with portrait of Jean-Michel Basquiat
© Brian Rose
Around the corner of the scaffolding to the right of "Alex Harsley," is a portrait of Jean-Michel Basquiat, lounging before a wall on 4th Street, one of the many artists who have inhabited this area of Manhattan. To the right of that is a street scene, kids playing in the spray of an open fire hydrant. It's a brief, but vivid encapsulation of life and history on this most extraordinary of New York's blocks.
Alex is now 72 years old, a highly competitive bicycle racer, so I expect he'll be around for a good while. I love the sidewalk shed, but I'm sore from craning my neck to see the pictures. Will someone please give this guy a major retrospective?
Update:
Meanwhile…from the Times, a lengthy profile of 27 year old Dash Snow–of the deMenil fortune–found dead in the next block on 4th Street:
They encouraged Mr. Snow to exhibit his collages of newspaper headlines, many of them revealing his obsession with Saddam Hussein, and his photographs of oral sex, nude girls, lines of cocaine being snorted off body parts. It worked: His first solo show was in 2005, and his work was included in the 2006 Whitney Biennial.
The art world was not yet settled on whether Mr. Snow was an important artist, a young talent with promise or a reckless pretender. Well-known collectors including Charles Saatchi have bought his pieces, generally at five-figure prices; Benjamin Godsill, a curatorial associate at the New Museum, said Mr. Snow's work "captures this period bracketed by the fall of the World Trade Center and the fall of the financial system."
Jacob Lewis, the director of Pace Prints Chelsea, said, "Some people think of him as the Kurt Cobain of the art world. Other people think of him as the Paris Hilton."
Anyone interested in discovering a serious and important American artist can simply look a few doors down from the Lafayette Hotel and find Alex Harsley.