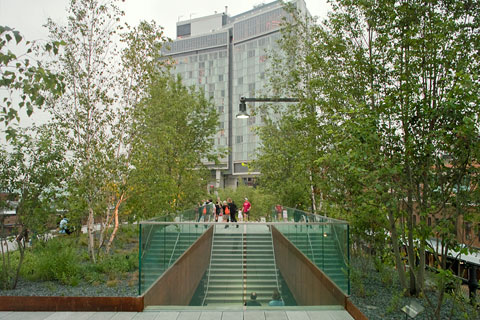 The High Line at Gansevoort Street
The High Line opened to the public on Tuesday. I went up late in the day, showers threatening, but it stayed dry as dusk approached. There were hundreds of people walking the former rail viaduct, but it was not uncomfortably crowded. That could change if the weather is good this coming weekend.
First impression–the High Line does not disappoint. The designers (James Corner Field Operations with Diller Scofidio & Renfro) have struck a balance between preserving this vestige of New York's industrial past and creating a new, urban dreamscape. The plantings evoke the wild opportunistic growth that emerged from the thin layer of detritus that accumulated over years of neglect–seen in Joel Sternfeld's beautiful photographs–but they are more diverse.
There are two experiential aspects of the High Line–the promenade itself with its greenery, structures, and event spaces, and the view of the city seen from above street level, the traffic and pedestrians flowing beneath. The photographs I managed to take as daylight faded primarily describe the latter.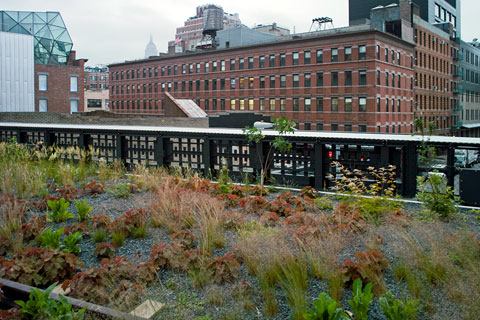 The High Line in the meatpacking district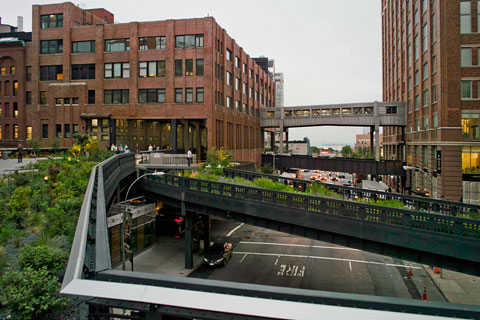 The High Line where it passes through the Chelsea Market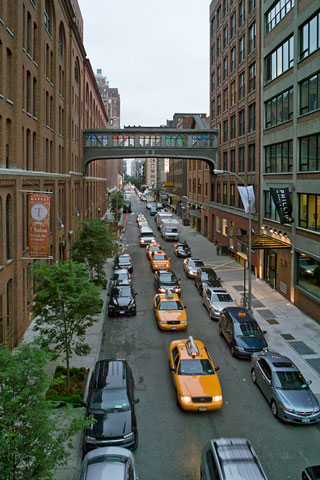 Traffic flowing beneath the High Line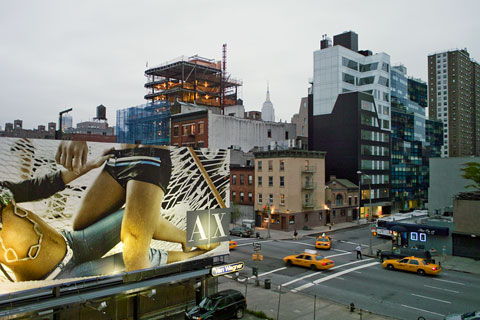 Tenth Avenue
Nicolai Ouroussoff in this morning's Times: " It is one of the most thoughtful, sensitively designed public spaces built in New York in years."