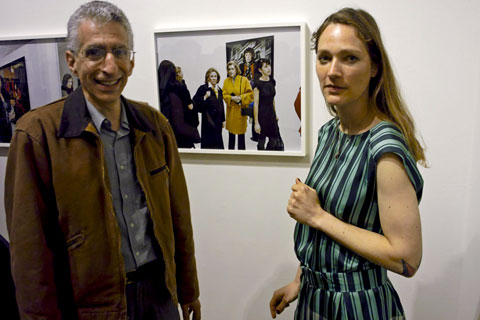 John Bartelstone and Danielle van Ark
© Brian Rose
Went to the opening of Dutch Seen: New York Rediscovered at the Museum of the City of New York. Large, lavish show funded by the Dutch government and others. Panel discussion moderated by Kathy Ryan of the New York Times Magazine. Hundreds piled in for the reception afterward. The discussion was not particularly edifying, though Misha de Ridder's explanation of how he found the locations for his photographs was interesting–maps and historical references to early Dutch settlement. Hendrik Kerstens could only manage to say that his work was about Paula, his daughter, which is superficially true, but not true in any larger sense. I'll write something about the exhibition once I've had a chance to go back for a longer look.
I ran into John Bartelstone, and Danielle van Ark, who is one of the photographers in the show. John is coming out with a book of his photographs of the Brooklyn Navy Yard, the former shipyard, now an incubator of all kinds of businesses and creative ventures. I photographed them in front of one of Danielle's photos of gallery openings. Seemed appropriate.
And a couple of images snapped on the way to the museum, which is located on the edge of Harlem on Fifth Avenue: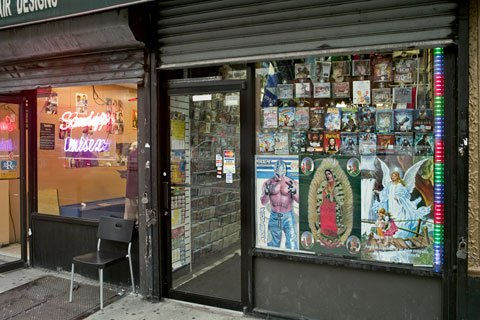 Lexington Avenue and 104th Street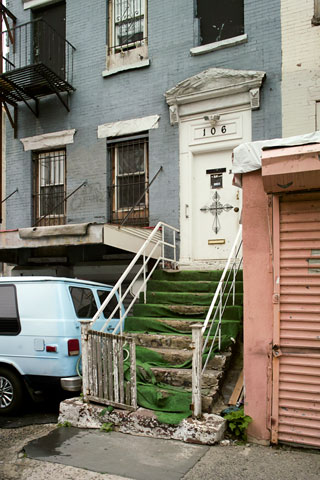 East 104th Street