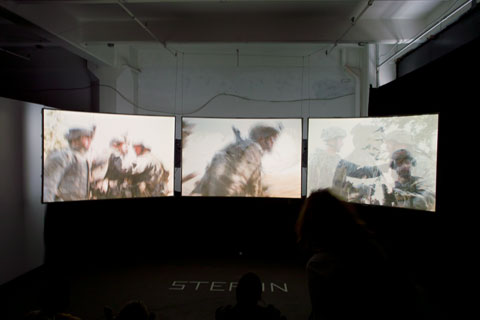 Sleeping Soldiers by Tim Hetherington — © Brian Rose
One of the strongest pieces in the show curated by Jon Levy was a three panel video installation by Tim Hetherington showing sleeping soldiers juxtaposed against a tense and emotional exchange on the battlefield in Afghanistan. Unlike so many video pieces that seem designed primarily to test one's patience, this montage of images, still and moving, gets to the point powerfully in a relative handful of minutes.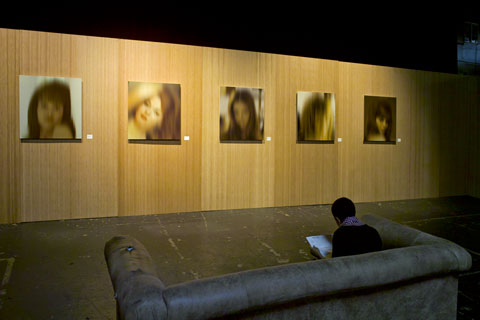 Carlos Ranc in St. Ann's Warehouse — © BrianRose
I had limited time to see the festival, so I moved quickly through curator Jody Quon's exhibit, which deals with female identity. The other major exhibit of the festival, which I did not see, also dealt with sexual identity, gay males. These are very familiar contemporary art themes, the kind of thing I seem hardwired to resist. But, of course, dismissing whole exhibits may not be fair to individual artists, so I try to wade through anyway. Although I don't go for Carlos Ranc's blurry manipulations of Playboy models, I do like Katy Grannan's carefully posed work very much. I'll have to write about her some time in the future.