Into the Sunset at MoMA begins with one of Richard Prince's cowboy appropriations, which is meant as a signal that this exhibition about photography and the west is meant to challenge conventional assumptions. I've visited the show twice, which is chock-a-block with famous images by famous photographers, but feel oddly ambivalent about it all.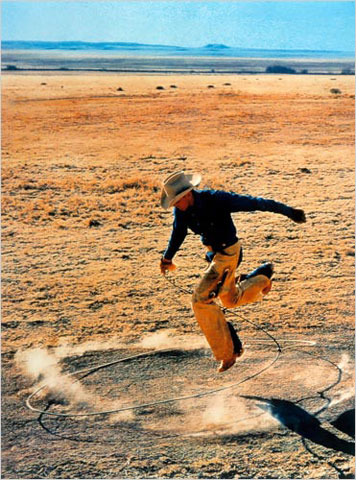 Richard Prince (original by Jim Krantz)
For me, Richard Prince is old (10 gallon) hat, the art equivalent of AIG credit default swaps and other toxic paper. The system needs to be purged, the debt retired. There's too much about "Into the Sunset" that calls up familiar critical tropes and cliches. It's all true that early photographers romanticized the west, that Manifest Destiny was evil, that the landscape has been scarred by sprawl and pollution, that the history of the west has been full of charlatans, drifters, losers, religious zealots, pornographers, etc., and that we still cling to heroic images of cowboys used to sell everything from cigarettes to 4×4 trucks.
I guess I want a different narrative–but if that's not possible, at least a different take on the narrative. One that sneaks up on me a little, gets me to think about things less rectangularly than the bed of that 4×4 truck. I think I'm looking for an exhibition that gets beyond the flat files of MoMA's photography department. I'm not sure what that exhibition would look like, or who the photographers would be. Probably some of the photographers in the exhibit, and probably a whole lot not there. More photography, fewer curatorial checked boxes.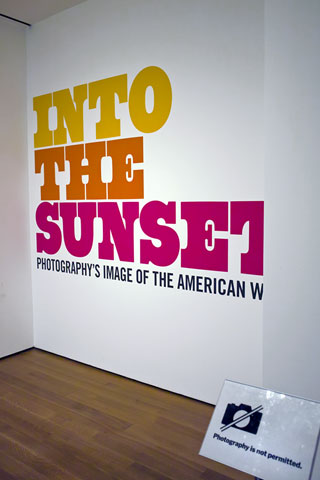 Museum of Modern Art — © Brian Rose

At the entrance to the exhibit right in front of Richard Prince's "plagiarized" cowboy–a photograph of another photograph–there is a "photography is not permitted" sign. Time to saddle up and get out of Dodge.