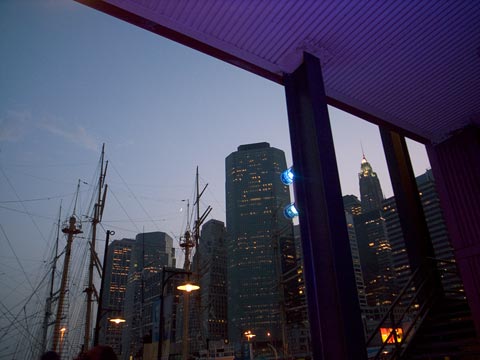 South Street, Fulton Fish Market, mid-1980s (4×5 transparency)
Going through my archive the other day, I came across this image of the former Fulton Fish Market on South Street in Lower Manhattan. The market was moved for a variety of reasons, the most important of which, was the requirement that it be in a refrigerated, sanitary, environment. South Street failed in that regard. Neither did it offer easy access for the trucks that long ago supplanted fishing boats as the main conveyance for bringing in fresh fish. The new market is at Hunt's Point in the Bronx.
Things change–and are changing–rapidly in the city for better or for worse. The Fulton Fish Market was a vestige of an earlier Manhattan where related businesses congregated together. A few posts down I wrote about the transformation of the Meatpacking District. One by one, these marketplaces are disappearing. The garment district with its racks of clothing on the sidewalk is a shadow of its former self. The flower district is threatened. The restaurant supply row along the Bowery near my office is probably on its last legs. Orchard Street, once a lively bazaar with goods spilling onto the street on Sundays, is now mostly quiescent.
I haven't anything particularly profound to say about all this. As a photographer of the city I note the passing of things and move on to the next wave of activity. But certainly, some of this progress comes at our loss.